With a team of mutants that's taken X-fans by storm, writer Brian Wood has guided X-MEN through battles, turmoil, and trouble, only to bring the Children of the Atom face to face with the return of the fearsome Lady Deathstrike and her all-new Sisterhood.
We clocked in with Wood to squeeze a few words out of him on the All-New Marvel NOW! era of X-MEN, as well as what to expect from a clutch of villains who exceed all expectations.
X-Men #9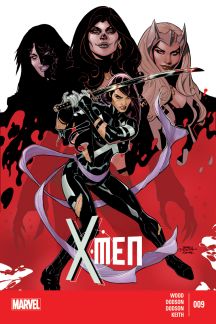 Marvel.com: Brian, firstly, what's been the most gratifying aspect for you of what readers are digging the most in X-MEN?
Brian Wood: I think what's most gratifying is that there is a market for this book. I mean, on one hand its sort of a no-brainer: it's X-Men, it [has] big name characters, it has art by Terry Dodson and others. But on the other hand it's obviously a very different sort of X-MEN and written by a writer who's not a typical Marvel guy. So my fear was always that these things would sink the ship, but that's not happening. And that's great for everyone. This book needs to exist, as far as I'm concerned.
Marvel.com: What would you tell a reader to expect who might be considering jumping on with X-MEN #10 in February? How will it mark a new era; or does it?
Brian Wood: Well, it's tricky. It's technically the middle of an ongoing arc or story, so we had to write in some scenes so it works as someone's first issue. I think we did it, and we have the rumored resurrections coming, which is a pretty big deal. And we have some backup stories drawn by Clay Mann that will satisfy the readers who've been missing the young X-Men all this time. I know a lot of people want a young X-Men series, myself included, but the next best thing is for me to basically embed that series into the back of this one.
Marvel.com: How do you feel your team of X-Men will be challenged the most over the next few issues? How stable are they as a unit?
Brian Wood: It's the ongoing Arkea threat that is at once this world-ending threat, but also one that hits them directly, personally, and is so unusual that it's a challenge just to figure out to fight it. As far as the stability, they have their hands full at the moment, but as we move into the second year of the series, this'll be a big focus. They may survive Arkea, but its costs them something.
Marvel.com: In what ways do you feel you've really dug down into the character of Lady Deathstrike to see what makes her tick?
Brian Wood: Well, without giving too much away, this is a new version of Lady Deathstrike, at once both Yuriko and Ana Cortes. So it's not the classic character. Not yet anyway. But what we've seen so far is Yuriko sort of rebuilding herself using Ana's money and connections and, literally, Ana herself. One thing I've added is a body mod fetish, something Yuriko's always sort of had, but here it's such a focus. Like she doesn't feel like herself until she's completely augmented and jacked up. I think that's interesting and I want to play with that as we go.
Marvel.com: If she actually took over the world, what would she do with it?
Brian Wood: I wonder if she would even get a chance, since she's aligned herself with Arkea. She might have made the wrong deal, there.
Marvel.com: Well, who among the new Sisterhood might stand the best chance of gaining the leadership role, then?
Brian Wood: Can't say until we see who the resurrections are! I'll add to that and say that I brought the Sisterhood back not just for this arc, but to be an ongoing, persistent threat to the X-Men. So the answer to that might come sooner than later, but it might also change and evolve over time.
Marvel.com: Among other developments, looks like you'll swing some focus in X-MEN onto Rachel and Sublime—what about them brings them to the fore for you?
Brian Wood: Well, this is a real point [of curiosity] for some fans, this unexpected pairing there, and I'll be the first to admit it's sort of illogical. And we'll address that, no worries there. But I always think awkward, bad-idea, doomed relationships are the best ones. I [would] rather write those than some well-adjusted, typical sort of hookup.
Marvel.com: In your opinion, where has new artist Kris Anka really excelled on the next few issues?
Brian Wood: I think he's really shone when it comes to the resurrections, this one in particular coming up in the next issue. He got to re-conceive and redesign them, probably a job that any X-artist would have killed for, and he nailed it.
Marvel.com: So, is this a great time to be an X-Fan or what?
Brian Wood: I think so! But then again it always is.
X-MEN #9, available now, and pick up issue #10 on February 5