It's time to face facts, true believers – the '90s were great. The laser cannons were plentiful, the costumes were impractical, and Marvel Universe dentists made a fortune correcting damages caused by perpetually gritted teeth. Thanks to the power of nostalgia, though, what would once be considered extremely embarrassing can now be called extremely awesome!

With that in mind, we've pulled a Marvel comic from the not-so-modern era and broken it down, one bodacious fact at a time! This week we're celebrating CAPTAIN AMERICA (1968) #438, by Mark Gruenwald and Dave Hoover. Here's "The Bombs Bursting In Air" by the numbers!


Captain America #438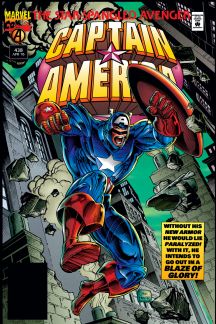 14 visible pouches on Giant-Man's costume

8 pairs of rocket skis

5 backup dancers from Michael Jackson's "Dangerous" tour moonlighting as henchmen

4 necessary shoulder pads on Captain America's armor

2 patriotic sidekicks with ill-fitting masks and barely patriotic codenames – Jack Flag and Free-Spirit

1 almost destroyed White House

For more, check out CAPTAIN AMERICA (1968) on Marvel Unlimited!