Every great super hero has to have an iconic accessory. Thor has Mjolnir, Hawkeye has his bow, and the Human Torch always has a bag of marshmallows just ready to roast. But in all of the Marvel Universe, no hero's weapon of choice even comes close to being as recognizable and indispensible as Captain America's shield!

Ever since his debut way back in CAPTAIN AMERICA COMICS (1941) #1, Steve Rogers has kept one hand on his signature shield while keeping another free for face punching.


Captain America Comics #1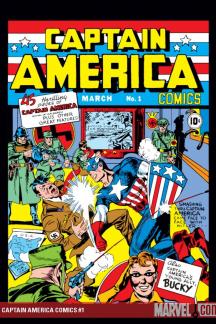 His original badge-shaped shield had a short lifespan, as it got quickly replaced in CAPTAIN AMERICA COMICS (1941) #2. Cap traded up, though, as his new disc-shaped shield – a gift from President Franklin D. Roosevelt himself – could ricochet like nobody's business. After Earth's Mightiest Heroes thawed Rogers out of his icy state in AVENGERS (1963) #4, this became the crime-fighter's primary tool.


Avengers #4
Even when Steve stepped away from the United States government, he revamped his shield to an edgier red, white, and black color scheme, as evidenced in CAPTAIN AMERICA (1968) #344. The classic disc design remained in the use by the new Captain America, John Walker.


Captain America #344
Really, Cap's shield isn't so much an accessory as another appendage. Pretty much every time Steve Rogers ends up in an alternate reality, his shield remains right in hand. That's usually a good thing, as alternate realities tend to be death traps – and the medieval one whipped up by Morgan le Fay in AVENGERS (1998) #2 proved to be no different.


Avengers #2
At this point in his career, Steve can mix up his shields to accommodate different missions. Sometimes he'll rock the classic triangle shield, sometimes his trusty disc, and ever since CAPTAIN AMERICA (1998) #9, he's also thrown an energy-based replica into the mix. This shield disappears when not in use and can even change shapes, acting as a force field as well.

face punching.

For more shield-slinging adventures, check out CAPTAIN AMERICA on Marvel Unlimited!