It's Monday, and that means that you've had to find the strength to shake off the after effects of a weekend well spent just to get back into shape for the weekday work-athon. It's tough, sure, but it's a fact of life – one that isn't lost on super humans either. Yep, Mondays mean back to work for super heroes too, as they trade in their uniforms for something more business casual.

Before fans were introduced to the savage She-Hulk, they met Jennifer Walters – a Los Angeles lawyer known for taking on tough cases. She-Hulk's day job plays an integral part in her life and all of her ongoing series, including the all-new SHE-HULK #1 by Charles Soule and Javier Pulido, on sale this Wednesday!


Savage She-Hulk #1

In her debut appearance, Jen Walters gets on the mob's bad side by defending a man they framed for murder. A hitman tracks Jen down and shoots her, right in front of her cousin Bruce Banner. In order to save her life, Bruce provides her with a transfusion of his gamma-irradiated blood – turning her into She-Hulk! Her savage transformation allows her to put the mob henchmen in their place after they creep into her hospital room to finish the job.


She-Hulk #4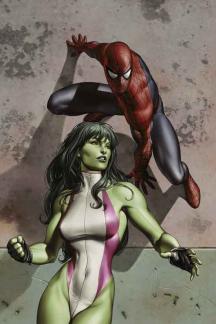 She-Hulk joined up with the law firm Goodman, Lieber, Kurtzberg, & Holliway, a firm that valued Walters' UCLA School of Law-trained brain over Shulkie's Avengers-certified brawn. While there, she specialized in super human cases. One of her toughest cases involved suing J. Jonah Jameson for libelous statements made against Spider-Man – a case made even tougher since Spidey refused to reveal his secret identity while on the stand.


She-Hulk #12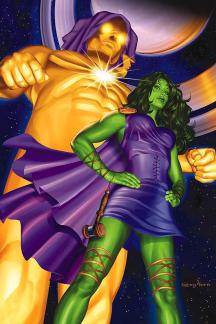 Word of Jen Walters' legal prowess spread across the galaxy when the omnipotent entity known as the Living Tribunal hired She-Hulk to act as the prosecuting attorney in a controversial assault case brought against one-time Avenger Starfox. This case brought She-Hulk in close proximity to the death-obsessed Thanos, easily the most difficult witness Walters ever had to deal with.

For Jennifer Walters' new adventures in law, check out SHE-HULK!