Kevin Shinick's one of those creative guys that's into everything: writing, directing, producing, even voice acting. No surprise that when word went out that he'd be taking over SUPERIOR SPIDER-MAN TEAM-UP and that in issue #11, out March 19, he'd be pairing Doctor Octopus with the original Spider-Man, we just knew we'd have to rope him in for some questions and answers.
You might know his work on such shows as "Mad" and "Robot Chicken," but Shinick's bound to surprise a few Spidey fans with his deft handling of the classic wall-crawler and the man who currently wears his costume.
Marvel.com: Kevin, what's the hand-off been like between you and outgoing SUPERIOR SPIDER-MAN TEAM-UP writer Chris Yost? And what do you want to bring to your run?
Superior Spider-Man Team-Up #10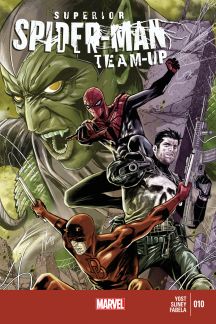 Kevin Shinick: I've loved Chris' run on SUPERIOR SPIDER-MAN TEAM-UP. I was a big fan long before I knew I'd even be taking over the title and I think it's safe to say that what will remain is the great momentum that Chris has achieved in ramping up to the whole Ock-Spidey storyline. And aside from a few, "Don't screw this up, Shinick, or I'll bury you" comments, Chris has been completely supportive.
I think what'll be new in this book is the fact that as the Goblin Nation storyline comes to a climax, you'll notice that a lot of the stories in SSMTU will have more of a direct impact on the main story that's happening over in SUPERIOR SPIDER-MAN. Plus, no matter what I do, I always try and bring a little humor into the mix. My feeling is that even life's darkest moments have humor in them, so while I take the situations very seriously I also like to harken back to some of the fun that comics in the 1970's and 1980's seemed to relish.
Marvel.com: We're still in the midst of the Ock-Spidey era, so what it like to be working with the Parker-Spidey?

Kevin Shinick: Working with this incarnation of Ock-Spidey has been a blast. As I've said before, I'm a big fan of this concept because I feel it's given both writers and readers a fresh take on an established institution without having to change or rewrite history. To that extent, I don't think Parker-Spidey can come through this experience without being incredibly affected, so in a way we'll be dealing with a whole new Peter after dealing with a whole new Spider-Man.

Marvel.com: What kicks off this story? And how will it impact Otto in the present?
Kevin Shinick: Here's a fact that I think is awesome and mind-blowing: In all of Spider-Man's rich 50 year history, aside from one time when Ock was hypnotized, which doesn't count in my book because he wasn't conscious of it, Doctor Octopus and the Green Goblin have never appeared together! So the question that needs to be asked is, "Why?!" These guys are arguably Spider-Man's top two biggest threats and they have not crossed paths once. There has to be a reason for that.
Marvel.com: We're not necessarily asking for spoilers, but…what will make Spidey and Ock team up?
Kevin Shinick: Well, I don't think it takes a scientist to figure out that the enemy of my enemy is my friend. Although in this case it might take two scientists.
Marvel.com: You mentioned cover artist Rivera, but what's it like working with interior artist Marco Checchetto?
Kevin Shinick: Marco is fantastic! It's been a real treat too see my words come to life through his artistry. Especially in issues #9 and #10, when I tried to come out swinging, Marco was right there and delivered such exceptional pages that I never had to slow the story down to explain anything. And it's interesting that you refer to it as a "creative equation," because for SUPERIOR SPIDER-MAN TEAM-UP #11 and #12, that's exactly what it is: an equation.
Since these two issues will essentially be done in flashback, Marco will deliver his usual brilliance for the beginning and end parts, but I've been doubly blessed, because we've enlisted the remarkable Ron Frenz to draw the segments from the past in order to give it the feel of that particular era. And while I've always been a die hard Spider-Man fan, I was heavily invested during Ron's run specifically, so this is a dream come true. In fact, I'm getting excited just talking to you about it.
Kevin Shinick: A lot is happening in the next few months, so I can't even tease anything without going down the rabbit hole, but rest assured that you can forget everything you think you know. Unless, of course, you know that the next few months are going to be awesome.
Jump right into Kevin Shinick's run on SUPERIOR SPIDER-MAN TEAM-UP with issue #10, on sale this week!