Over seven decades ago, history occurred with the debut of Captain America in 1941. 70 years later, Steve Rogers and his star-spangled alter ego have grown to iconic status, remaining a mainstay of the Marvel Universe while also expanding into the realms of television, film and more.
On April 4, 2014, the Sentinel of Liberty returns to the big screen in "Captain America: The Winter Soldier" from Marvel Studios. As the countdown to Chris Evans picking up the shield once more heats up, we present the definitive comics history of Cap, from his debut to the modern day.
Follow along with us weekly and look for more Captain America on Marvel Unlimited and through the Marvel Digital Comics Shop.
Captain America (2002) #21
In 2004, Captain America began to divide his time between his solo missions and working alongside his longtime partner and confidante the Falcon. But despite Steve Rogers' unflagging devotion to his quest for justice, his world once again crumbled around him by year's end, bringing with the dissolution of the mighty team of heroes he'd risked his life for time and time again.
In CAPTAIN AMERICA #20, Cap wrapped up his adventure in an alternate reality where the Red Skull held sway overall. Asked to serve on a tribunal at Guantanamo Bay in Cuba in CAPTAIN AMERICA #21, our hero reluctantly agreed, with the only saving grace being his meeting Rebecca Quan, an intriguing journalist. The army base proved to be a boiling pot of conflicts in CAPTAIN AMERICA #22, and a breach in security dragged Cap into a deep, dark mystery.
A prisoner escape came to light in CAPTAIN AMERICA #23, and the man meant to stand before the tribunal, Fernand Hedatat, made his way into Cuba along with other accused terrorists in search of a cache of bio weapons. Betrayed by Cuban agents assigned to the case in CAPTAIN AMERICA #24, Cap beat them at their own game and managed to keep the weapons out of the hands of the Castro regime in CAPTAIN AMERICA #25.
In CAPTAIN AMERICA AND THE FALCON #1, Sam Wilson flew off to Cuba himself on the trail of a drug cartel, but ran into a savage brute wearing Captain America's costume. Cap returned to Cuba with the Scarlet Witch accompanying him to help Falc in CAPTAIN AMERICA AND THE FALCON #2, but a devastating hurricane slowed him down, allowing the Anti-Cap to capture Sam and his girlfriend Leila. The storm blew everyone back to Florida in CAPTAIN AMERICA AND THE FALCON #3, and Cap caught up with the former Navy SEAL, finding a way to temporarily counteract the effects of rage-inducing drugs.
In AVENGERS #82, Cap witnessed the beginning of a new team of Invaders, lead by John Walker, aka the USAgent. The Sentinel of Liberty confronted Walker over his use of overwhelming force in AVENGERS #83. Cap related a World War II adventure in CAPTAIN AMERICA #26 to prove that he didn't recklessly endanger his teenage partner Bucky while the battle raged on across the globe. In CAPTAIN AMERICA #27, Cap and Iron Man jetted off to Cleveland and encountered Isaiah Bradley from a possible future and helped him stop Bucky Barnes from altering the past in CAPTAIN AMERICA #28.
Avengers (1998) #500
Hoping to help the Anti-Cap further in
CAPTAIN AMERICA AND THE FALCON #5
, Cap placed him in the Wakandan consulate and took his arguments over it to S.H.I.E.L.D.'s Nick Fury. Meanwhile, at Avengers Mansion, the team's destruction loomed over Earth's Mightiest Heroes in
AVENGERS #500
as the Vision seemingly ran berserk while the team watched helplessly. In
CAPTAIN AMERICA AND THE FALCON #6
, Cap tried to help Sam Wilson after his friend shot an admiral and then wrestled with his long-simmering attraction to the Scarlet Witch as the Avengers continued to break down in
CAPTAIN AMERICA AND THE FALCON #7
.
Steve's old flame Diamondback returned in CAPTAIN AMERICA #29, but her mission to rescue a senator from HYDRA proved to be a fraud, a front for a scheme by the Red Skull for the female agent to kill our hero. After dealing with an attack by Batroc and his mercenaries at Shea Stadium in CAPTAIN AMERICA #30, Cap fended off an assault by the Serpent Society in CAPTAIN AMERICA #31. When the dust cleared, an armored Skull swooped in and dispatched Diamondback for failing to assassinate his hated foe, Captain America. Steve discovered that a Life Model Decoy had taken Diamondback's place, though, in CAPTAIN AMERICA #32, and S.H.I.E.L.D. moved in to capture the Red Skull.
Captain America (2002) #29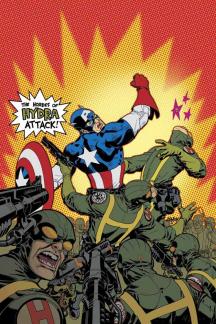 In
AVENGERS #502
, the warrior Kree race arrived on Earth to attack the team and Cap stood in horror as his old comrade Hawkeye sacrificed his life to stop them. With the group shattered in
AVENGERS #503
, Steve's horror grew when he realized that Wanda Maximoff, the Scarlet Witch, the woman for whom he harbored deep feelings, stood responsible for the blow that finally toppled the legendary heroes.
Read more CAPTAIN AMERICA (2002) on Marvel Unlimited!