It's Monday, and that means that you've had to find the strength to shake off the after effects of a weekend well spent just to get back into shape for the weekday work-athon. It's tough, sure, but it's a fact of life – one that isn't lost on super humans either. Yep, Mondays mean back to work for super heroes too, as they trade in their uniforms for something more business casual.
James "Rhodey" Rhodes may have made his debut in IRON MAN #118 as Tony Stark's personal pilot, but the man who would be Iron Patriot had a storied career as a lieutenant in the United States Marine Corps well before he crossed paths with Iron Man. Before you check in with Rhodey's continuing adventures in the upcoming IRON PATRIOT #1 on March 26, look back on some key issues showing how this iron man uses his combat pilot skills as a super hero.
Iron Man #144
After reading this flashback tale, you might just believe that Rhodey and Stark were fated to be friends. Here it's revealed that Tony Stark – wearing his first Iron Man armor after escaping from the captivity that necessitated its creation – stumbled across Rhodes and the pilot's downed helicopter in the middle of the jungle. After a daring escape from behind enemy lines, Stark offered the officer a job as his personal pilot and chief aviation engineer. James accepted, unaware that Stark and the mysterious ironclad hero were actually one and the same.
Sentinel Squad O*N*E #1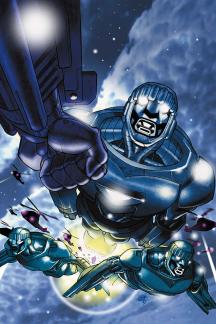 Following time spent serving in Stark's stead as Iron Man, as well as his own lengthy career as the armored hero War Machine, Rhodey found himself hand selected by the government to take a leading position in the newly created Office of National Emergency. His military history came in handy as the organization's commanding officer and combat instructor, one in charge of training pilots to work with Sentinel robots to maintain order in the super hero community.
Iron Man 2.0 #1
Promoted to the rank of Lieutenant Colonel, Rhodey took a job at the Pentagon where he effectively became the military's own Iron Man. In his new position, the hero focused on dealing with international terrorism – all under the wary eye of the untrustworthy General Babbage. Since then he's put his military career on hold, preferring instead to work with S.H.I.E.L.D. in his new Iron Patriot armor.
For more of James Rhodes' adventures in law, check out IRON PATRIOT!