It's Monday, and that means that you've had to find the strength to shake off the after effects of a weekend well spent just to get back into shape for the weekday work-athon. It's tough, sure, but it's a fact of life – one that isn't lost on super humans either. Yep, Mondays mean back to work for super heroes too, as they trade in their uniforms for something more business casual.
Marc Spector has one incredibly diverse resume. By the time he ran across the Egyptian god Khonshu and gained a new, more noble purpose in life, Spector had already transitioned from a career as a U.S. Marine to that of a roving mercenary for hire. But – as you'll learn from this quick run through of Moon Knight's metaphorical nine-to-fives – the vigilante hasn't let an active crime-fighting career keep him from exploring other options.
Moon Knight #3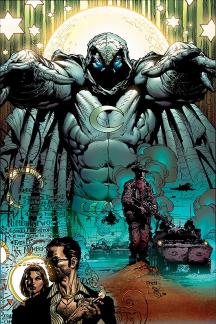 Like a lot of super heroes, Moon Knight got his start in the armed forces. After getting dishonorably discharged for striking a superior officer, Marc started selling his skills to whoever had the deepest pockets – which is actually how a lot of super villains get their start. Spector's mercenary lifestyle led him to Egypt where Khonshu set him on the right path.
Amazing Spider-Man #354
After Khonshu's intervention, Moon Knight went with the flow and became a full-on super hero – with a sidekick and everything! This career change would not be without its fair share of bumps, as his partner eventually came down with rampaging cyborg-itis. Only by teaming up with Spider-Man, Nova, and other street-level Marvel heroes could Moon Knight confront his sidekick-turned-cyborg.
Moon Knight #1
Many people seek a fresh start in Los Angeles, and that proved to be true for Marc Spector. Upon returning to the west coast, Moon Knight started moonlighting as a TV producer. Pulled directly from his career as a mercenary and vigilante, the syndicated action series "Legend of the Khonshu" provided Spector with lots of perks and one major new villain: Hollywood.
With his television career canceled, Marc shifts gears once again in MOON KNIGHT #1. The new series by Warren Ellis, Declan Shalvey, and Jordie Bellaire depicts a Moon Knight like we've never seen before – one dressing for the job he wants instead of the job he has. That job? Being a supernatural detective!
Follow Marc Spector's new career in MOON KNIGHT #1!