As one volume of SECRET AVENGERS goes the way of a turncoat informant, another rises to takes its place.
With March 12's SECRET AVENGERS #1, Ales Kot takes over solo writing duties after penning the previous series with Nick Spencer. Teamed with artist Michael Walsh, Kot has recruited seven characters to work together under the general mandate: "Run the mission. Don't get seen. Save the world."
Secret Avengers #1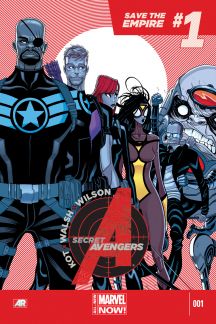 Each day for the next week, Marvel.com will showcase a member of the team with spotlight artwork by Walsh kicking off with one of the Marvel Universe's most prominent spies, Natasha Romanoff, better known as the Black Widow.
"Secret Avengers is the closest team to her own choice of work," Kot says of the Widow's inclusion. "It's a black ops spy team. Natasha is the perfect fit. Now, being a perfect fit and a sort of team leader, however unofficial, that could also easily make her a target."
As the new series launches, Natasha and her teammate Jessica Drew, aka Spider-Woman, just want to enjoy a nice spa day that gets interrupted by a work-related interference.
"[Natasha starts the series] in Manhattan," Kot notes. "In a Russian spa, to be more specific. With Jessica. Eating gelato. Getting massages. Showing her the special room. It's fair to say that the new series finds Natasha in a very relaxed place. And then we break that. Maybe."
Known throughout the hero community as one of the best in the spy business, Black Widow has been a part of the Secret Avengers team since it launched. As always, she will bring her particular brand of expertise to the team while also offering a good example for newcomer Spider-Woman.
"Natasha is the most experienced team member and a genuinely lethal, quiet spy," Kot says. "She's sort of an older sister to Jessica Drew—the first scene alone shows that pretty well. It's all about Natasha showing Jessica how to relax, and about Jessica being sort of oblivious when it comes to the concept. Natasha is quiet power. She doesn't need to stand out or run the team. She just wants to get things done when they need to get done, and her code of ethics is much more streamlined than those of plenty of her colleagues."
"Black Widow and Spider-Woman really like each other," Kot teases. That dynamic will make things interesting for Hawkeye who dated both women in the past. But don't expect everyone on the squad to get along though, especially with the inclusion of M.O.D.O.K., a villain Black Widow has tangled with several times.
Check back tomorrow for more exclusive art from Michael Walsh and commentary from Ales Kot; pick up SECRET AVENGERS #1 on March 12!