All teams need a leader. When it comes to the Avengers, fans usually look for an upstanding and dependable person who the members all trust.
And then there's Secret Avengers boss Maria Hill.
Secret Avengers #1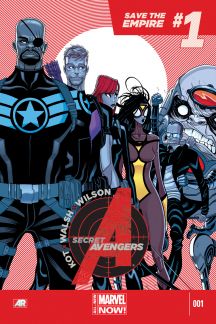 Her particulate brand of leadership includes a lot of secrets, manipulation and other underhanded dealings.
SECRET AVENGERS #1
, which launches on March 12, will find Hill in the top spot once again as Ales Kot takes full writing control for the new volume with artist Michael Walsh.
According to the latest SECRET AVENGERS teaser by Walsh, Hill's reign will be over soon, but she most likely has a series of contingency plans set in place to prevent such things.
"Maria Hill uses everyone and her agenda is uncertain," Kot explains. "Why did Hill build this team? Why this exact team? What is she expecting? Who is she suspecting?"
The spy master will keep the answers to those questions under wraps as long as possible while continuing to utilize her team of agents and super heroes on missions around the world.
"The team does something she wants to get done," Kot says. "Black ops have a long tradition in the spy culture. [The Secret Avengers are] Hill's way of conducting missions no other team could pull off—sneaky, high-powered, fast. [There's] easy deniability unless the Secret Avengers get caught by cameras/satellites."
Kot explains that writing Hill in SECRET AVENGERS comes easy to him for a few personal reasons.
"Hill arrives fully formed for the most part," he says of his writing process. "I just tune in and keep my fingers moving across the keyboard as I hear and see her. Writing Hill right is usually very easy. What helps is that she's a clear exploration of some of my own demons; I have a knack for manipulation I choose to stay away from in any sort of an ethically problematic way, but I am well-aware of having it. That helps me connect with her."
From a design standpoint, Walsh based his version of Hill on Leinil Francis Yu's take as seen in INDESTRUCTIBLE HULK and, "simplified it a bit."
Hill won't just look hard, though; she'll act tough as well by making a lot of decisions that might manipulate her team in ways they can't imagine just yet.
"There's also the possibility of Hill following an entirely different plan [than the one she presents]," Kot notes. "Or two plans at once. There's whatever she says she's using the team for— and also whatever she really is using the team for. Anyway, that's at least a possibility here."
Hill will not be the only member of the team skulking in the shadows though. M.O.D.O.K., the killer genius cyborg has sold his services to S.H.I.E.L.D. Maria jumped at the opportunity to recruit the morally questionable operative, but keeps him away from the others.
Even so, Kot notes that Hill and M.O.D.O.K. have an enjoyable relationship to write:
"M.O.D.O.K.'s and Hill's mirroring of personalities and snappy comebacks."
Check back tomorrow for more exclusive art from Michael Walsh and commentary from Ales Kot; pick up SECRET AVENGERS #1 on March 12!