For an archer, Hawkeye's pretty far from a straight arrow.
But his flaws have made him a compelling character and fan favorite for years. That aspect of Clint Barton takes center stage in his solo book by Matt Fraction and David Aja and will also feature prominently in the new volume of SECRET AVENGERS launching on March 12.
Secret Avengers #1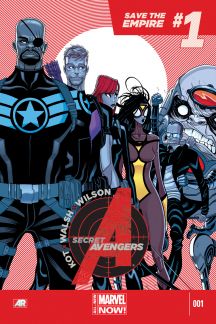 "Hawkeye's easy to relate to because of his complexity; I believe people see themselves in that," writer Ales Kot says. "Matt Fraction and David Aja get this and that's a big part of why the character is undergoing such a renaissance. He's a mess. He's very human. He doesn't shower every evening. He forgets things. He's incredibly talented at something. He sometimes wastes his gifts. He's really kind. He's sort of a big child. He wants to do better. He's honest. He's dishonest."
Written by Kot and drawn by Michael Walsh, the new series features a mix of super heroes and S.H.I.E.L.D. agents joining forces under the command of Maria Hill for black-ops missions. Walsh created a series of teasers that will roll out leading up to the series launch.
"Hawkeye's [look] is a little more casual than he was in some of his previous, suited incarnations," Walsh says of the hero's costume. "He's got a new rig for carrying his arrows and a fresh set of boots, but his actual uniform consists of an old t-shirt and that's just how he likes it. This is the new Hawkeye that you've seen in Fraction and Aja's acclaimed run, busted nose and all."
No stranger to the Secret Avengers, Clint Barton led the team in the latter half of the first volume and signed on for the group in its previous incarnation which involved mind-wipe tactics to keep the operatives in the dark post-mission. A fairly disastrous mission caused Hawkeye to bail, so why's he back now?
"He's not in the group at the beginning of the first issue," Kot notes. "In fact, he's being chased by one of the A.I.M. factions—and he doesn't know why. There are definite wheels within wheels here."
The confrontation with A.I.M. literally leads Clint Barton—whom Kot calls, "a total wildcard"—right into the presence of Secret Avengers teammates Black Widow and Spider-Woman trying to enjoy a spa day in Manhattan. While these three work together to stop the immediate threat, there might be a bit of conflict there behind the scenes.
Speaking of Clint's exes, readers of the previous SECRET AVENGERS series will remember that Mockingbird went through quite an ordeal as she became stranded on A.I.M. Island where readers discovered that A.I.M.'s Scientist Supreme Andrew Forson actually had her under a kind of mind control. Forson used this influence to have Mockingbird shoot and seemingly kill Taskmaster.
"Let's remember that—spoiler if you haven't read SECRET AVENGERS #16, which wraps up the previous season—Hill wiped out nearly everyone's memories at the end of the story," Kot reminds. "Hawkeye doesn't remember what happened to Mockingbird."
Check back tomorrow for more exclusive art from Michael Walsh and commentary from Ales Kot; pick up SECRET AVENGERS #1 on March 12!