One of the most popular new Marvel characters around got his start outside of comics. Agent Phil Coulson first debuted in the Marvel Cinematic Universe with 2008's "Iron Man," played by actor Clark Gregg. In addition to appearances in the rest of the Marvel Studios pictures, Coulson also stars in "Marvel's Agents of S.H.I.E.L.D.," the "Ultimate Spider-Man" animated series and comics like SECRET AVENGERS.
Secret Avengers #1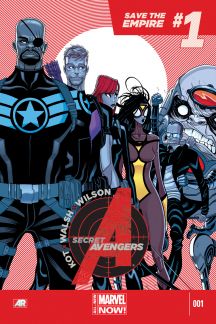 Writer Ales Kot and artist Michael Walsh launch a brand new
SECRET AVENGERS #1
on March 12 bringing together a mix of S.H.I.E.L.D. agents and costumed heroes under the motto "Run the mission. Don't get seen. Save the world."
Coulson might come off as a genial fellow, but also finds himself dealing with some very serious and dark elements in the Marvel Universe.
"There's a dissonance between Phil's outward behavior and his internal processing," Kot says. "There's a dissonance between what he is a part of and who he aims to be. We will be exploring that."
From a design standpoint, Walsh, who created the teasers on display leading up to the book's launch, also has a good handle on the character. Expect to see Coulson sporting his familiar attire in the book.
"This is the sly man in the suit, probably an Armani," Walsh says. "He's quick to smirk but slow to laugh, and takes his job very seriously. He's a new character to the Marvel U and we are having a blast developing him."
Another aspect of Coulson's character finding its way to the surface relates to the test mentioned in today's teaser. While Kot remained tight-lipped on the details, he did mention that it has something to do with post-traumatic stress disorder, a bi product of war that many real life soldiers experience.
As Coulson becomes a bigger player in SECRET AVENGERS so does his pal and fellow agent Nick Fury Jr. Kot got a taste for writing the Coulson-Fury dynamic in the prior SECRET AVENGERS volume where their friendship flourished. As far as relationships go, sometimes they can be liabilities while running black ops missions.
"Technically speaking, can it hurt the objective?" Kot questions. "Yes. Can being friends hurt them? No. But the 'Can it hurt the objective,' idea is very interesting, because it allows for such varied responses. What are the aspects of these characters we haven't seen as of yet? What are their reactions under extreme duress? What would happen if one of them messed up? What would happen if one of them got hurt? What would happen if they would somehow end up disagreeing in a massive manner?"
Check back tomorrow for more exclusive art from Michael Walsh and commentary from Ales Kot; pick up SECRET AVENGERS #1 on March 12!