All great black-ops Marvel teams need a Nick Fury. In the case of Ales Kot and Michael Walsh's March 12 debuting SECRET AVENGERS, Nick Fury, Jr. will play that part.
The character formally known as Marcus Johnson not only boasts the benefits of the Infinity Formula coursing through his veins, but also a strong set of spy skills that would make his dad proud. But for Fury, Jr., comparisons to his father lead to mixed feelings.
Secret Avengers #1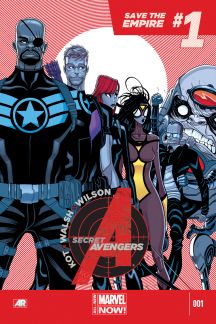 "He struggles with it here and there," Kot says. "His father's legacy looms large, and the key question here might be this: does Fury Jr. feel like he needs to exceed it, or can he be his own man? Does he want to be defined by someone else, or by himself, by his own actions?"
Fury will mull over those questions while performing missions alongside Black Widow, Hawkeye, Spider-Woman, Agent Coulson, Maria Hill and M.O.D.O.K. While designing this mix of spies, heroes and a villain, Walsh decided to keep Fury's look consistent while also giving glimpses at what's going on below the surface.
"For Fury we stuck with the Super-Soldier costume first worn by Steve Rogers," Walsh says. "I have a lot of fun drawing Fury Jr. I really try to capture this boiling rage deep in him. On the outside he may look calm but take a look at his face when he is throwing a mean right hook, there is a lot of anger he lets out when he fights."
Kot points out that the teaser phrase "The path you have chosen will show you a mirror" relates to some of Fury's inner turmoil.
"It hints at the discord between what he does and what he is," he notes. "Things will catch up. Things will flare up."
One potential ticking bomb for Fury will be the inclusion of a murderous villain on the team that only he and his boss know about.
"No-one on the team except for Nick Fury, Jr. and Maria Hill knows about M.O.D.O.K.," Kot reveals. "Not even Coulson—at least not in the beginning. Hill very well knows that there are not that many people willing to work with M.O.D.O.K."
Even though he keeps a huge secret from his pal, Kot explains that the camaraderie and friendship between Fury and Coulson remains a deep, but potentially complicated one.
"They're best friends," he says. "However, things can be a bit more complicated than that—especially as some of the events of the new series hit. Their past experiences together and apart, their overall dynamic, their aspirations, their traumas—all of that is very fertile storytelling ground."
Check back tomorrow for the final exclusive teaser from Michael Walsh and commentary from Ales Kot; pick up SECRET AVENGERS #1 on March 12!