Try as hard as you can, you just can't keep Captain Marvel down.
This Wednesday marks Carol Danvers' big return in the all-new CAPTAIN MARVEL #1. Writer Kelly Sue DeConnick resumes her role as Carol's co-pilot, with new series artist David Lopez strapped in tight and ready for the hero's next out-of-this-world adventure. For everybody boarding the good ship Captain Marvel for the first time, we've conducted an extensive interview with Kelly Sue DeConnick about the previous volume of Carol's series.
Captain Marvel (2012) #1
First we'll be running through
CAPTAIN MARVEL (2012)
#1-8, which followed Carol as she promoted herself from Ms. Marvel to Captain Marvel and went on a time-traveling adventure that saw her playing a hand in her own origin story.
Marvel.com: CAPTAIN MARVEL's first arc brought back a lot of Carol's old supporting cast. Some people, like Tracy Burke, we hadn't seen in a long time. What inspired you to bring them back?
Kelly Sue DeConnick: Yeah, it wasn't anything more than my [being] selfish. I love Tracy. Tracy's hilarious. There's a part of me that does have an overt agenda to push things like depictions of female friendships and depictions of intergenerational female friendships, but when I think it comes to actually getting that stuff on the page, I'm not really that calculating. It's just—I like her! Let's play with her! It wasn't quite, "I wanna bring back the old cast!" It was just that when I was researching Carol, Tracy really clicked for me.
Marvel.com: As a writer, you seemed like a natural fit for Captain Marvel based on your interest in female fighter pilots in World War II. That history makes its way into "In Pursuit of Flight" thanks to time travel and the introduction of the Banshee Squadron. Knowing that CAPTAIN MARVEL could have only gotten one story arc, how important was it to you to get those thematic elements into the book as quickly as possible?
Captain Marvel (2012) #2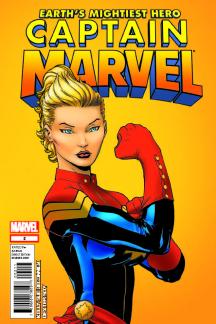 Kelly Sue DeConnick: Wildly important. That's exactly why. I did not think that the book would last more than six issues. There was nothing subtle about it. It was like, here are two things I want to do [and] we're going to do them immediately because I don't think I'm going to get to do them otherwise. And thus: time travel.
Marvel.com: Time travel also allowed you to go back to CAPTAIN MARVEL #18 from 1969, the issue where she actually got her powers, and rework some of Carol's history.
Kelly Sue DeConnick: A lot of the first volume is revisiting Carol's history and reworking it with an eye toward more agency. One of the plans that I had was I wanted to tweak her origin, which is why we ended up going back to the moment where she gets her powers. Alas my [original] plan was a little too much so it got nixed. Which is cool, I harbor no ill will. I do not own these characters.
Marvel.com: What was the original tweak to her origin?
Kelly Sue DeConnick: The moment they go back [in the printed story], they're witnessing [Carol] get her powers, and [Carol's mentor] Helen [Cobb] is with her. When the explosion goes off, Mar-Vell scoops up young Carol, and older Carol scoops up Helen, and so the transfer of powers from Mar-Vell to Carol has a mirror in [older] Carol to Helen.


Captain Marvel (2012) #3
There's some interesting stuff there and we did get to explore the idea of legacy—which was the whole point!—and as a bonus, show two women in high stakes competition with each other and remaining friends, an unfortunately rare dynamic in pop culture. What I had planned originally, however was have Mar-Vell scoop up Helen and have [older] Carol scoop up young Carol so the transfer of powers would be from her to her; she would become the source of her own power.
Marvel.com: I like that.
Kelly Sue DeConnick: I do too! But it is weird. They're not wrong. When you say it in that sentence—"she becomes the source of her own powers"—it's beautiful and resonant with the reasons the character was created, but when you try then explain her origin and you have a time travel paradox involved, it becomes problematic.
Marvel.com: You also got to work with Emma Rios on the last two issues of "In Pursuit of Flight." What was it like having her onboard to do this crucial moment in Carol's re-origin?
Kelly Sue DeConnick: Perfect. Emma is…I was having fun with David Lopez the other day talking about the new CAPTAIN MARVEL issue #3 that we're working on, and at some point I brought Emma up again and he said, "Emma's your favorite." And I was like, "No! No! …Yeah..." Emma's pretty incredible. I have been pretty lucky with all of my collaborators, which sounds like such a line, but it's so true. It's like, holy crap! Filipe Andrade! Filipe Andrade! Amazing, amazing. I have been super crazy lucky. And Dex [Soy]! On that opening arc! He set that tone. He sold the idea that you can beautiful and stop a truck.
Captain Marvel (2012) #4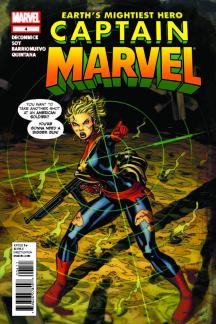 Marvel.com: And it's right there in the very first issue with her fighting Absorbing Man. It opens up with that.
Kelly Sue DeConnick: One of my absolute favorite panels from that first volume, I think it's in issue two, is when they've gone to look at Helen's plane and Carol's got the belt buckle and the t-shirt. It so sums her character up for me and let me tell you, that is not how I had it written. I wrote for her to be in a silk blouse and trousers and [Dexter Soy] was like, "No. T-shirt and jeans." It came back and he was right. It was the most perfect summation of her character in that first volume. My point being that I have an obvious bias for anything that Emma touches, but that doesn't make anybody else less special.
Marvel.com: A two-parter co-starring previous Captain Marvel Monica Rambeau followed the opening story arc. You said that if you had to have one Carol story, "In Pursuit of Flight" was it. Was that the same with #7-8? Was this your second must-tell Carol story?
Kelly Sue DeConnick: I'll tell you exactly what this was: I was at a convention and we were talking about the series coming up and somebody asked who I would like to include. I brought up Monica Rambeau and a group of fans in the back shrieked. It was my first really visceral understanding—and this is a lesson I have learned much more profoundly in the time since—it was my first moment of understanding what representation means. At that moment I decided, first chance that I have for Monica to come in, Monica comes in.
Captain Marvel (2012) #5
Marvel.com: So many people were happy that Carol got the moniker Captain Marvel but we can't forget that Monica had that title in the 80's. That history is something you play with in those two issues.
Kelly Sue DeConnick: Yeah, it had to be acknowledged. It wouldn't be fair to Monica to just not bring it up.
Marvel.com: Their banter back and forth was so naturalistic. You wrote Monica totally on the same level as Carol, maybe even a little sharper at times.
Kelly Sue DeConnick: I think she's hilarious. I had fallen in love with Monica from NEXTWAVE. So for that reason, Monica to me is a little more Warren Ellis. A little bit annoyed with everyone all the time.
Marvel.com: Like how you reintroduced Tracy Burke in the first arc, you brought back Carol's old beau Frank Gianelli in this story.
Kelly Sue DeConnick: Frank [Gianelli] was a character that I loved, probably because I grew up in the 70's and he's such a 70's dude. But what's hilarious is that when I tried to write him, he didn't come out that way at all! My Frank was so wildly different from 70's Frank and I don't know why, because I was not trying to make him different. I screwed it up somehow.
Did you ever watch "Just Shoot Me"? I forget the actor's name; he was also Veronica Mars' dad.
Captain Marvel (2012) #6
Marvel.com: Enrico Colantoni?
Kelly Sue DeConnick: That's him. I wanted him in the mix. He's a photographer as well.
I wanted to avoid having a love interest for a while. But the plan was that when we got to it, Frank would be the love interest and he would be—just in effect here, as an allusion—Carol's danger magnet. [He would be] like an everyday super hero, a real life person out there trying to do good with an agenda and a life of his own. I wanted Carol to be bailing him out trouble as much as possible.
Marvel.com: It's kind of a flip on the trope in a way.
Kelly Sue DeConnick: Yeah, and that was my intention with #7 and #8 with that character. And I don't know what happened but he just didn't end up working on the page quite the way I wanted.
And I wrote the creepiest e-mail of my entire life to Dexter Soy when I was trying to give him some direction for updating the design of the character. It was hilarious, "He should dress like this, look like this!" And after I read it, I was like, "Wow! That is a super creepy e-mail!"
Marvel.com: But it all worked out.
Captain Marvel (2012) #7
Kelly Sue DeConnick: Yeah, it all worked out. It was a prime example of how you're just not in control. There is a certain amount of it that you just do not get to decide. And I had these plans and Carol was just like, "Nah, I'm not feelin' it."
Marvel.com: What was the inspiration to have the Captains Marvel fighting giant undersea robots?
Kelly Sue DeConnick: That started with me wanting to give Dex something that he would knock out of the park. That two page spread with the underwater plane graveyard—that is the genesis for the idea for that issue. Dex drew space so beautifully that I was trying to figure out a locale for Dex that was huge and open and epic. And so we went underwater.
Marvel.com: It felt like an idea catered to his strengths as an artist. That definitely comes across.
Kelly Sue DeConnick: This is a collaborative art form. I tend to think of my scripts as letters to my artist. I want to be writing to the artist that I am working with. I want to be writing for them, to their strengths.


Captain Marvel (2012) #8
Or alternatively, if it's someone I know well, maybe I want to challenge them and get them to do something that's out of their comfort zone in the same way that I hope that they want to challenge me. I think that that's kind of the story with Emma, although I've come to believe that she has no "out of her comfort zone." Anyway, my point being that I think if you're not writing to the strengths of your artist, then you're doing it wrong. That arc was definitely a personal, "Here Dex. You are going to kill on this."
For the further adventures of Carol Danvers, pick up CAPTAIN MARVEL #1, on sale this Wednesday! And be back tomorrow for more with Kelly Sue!