It's Monday, and that means that you've had to find the strength to shake off the after effects of a weekend well spent just to get back into shape for the weekday work-athon. It's tough, sure, but it's a fact of life – one that isn't lost on super humans either. Yep, Mondays mean back to work for super heroes too, as they trade in their uniforms for something more business casual.
Sam Wilson has dedicated all areas of his life to helping people – including the areas that don't involve a winged flight-pack. As a social worker, the Avenger known as Falcon focused his considerable compassion and empathy towards giving aid to those in need. By maintaining a home base in Harlem, Wilson has made protecting the neighborhood he grew up in a priority.
Captain America #276
After a few years fighting at Captain America's side, Sam Wilson decided to put his reputation as a respected social worker and community volunteer to use in a congressional campaign. But Falcon's confounding past came back to haunt him in the form of a Daily Bugle expose. Sam nearly lost his mind trying to reconcile his past as the criminal "Snap" Wilson with his present as an erstwhile Avenger and potential political figure.
With his political aspirations behind him, Wilson instead focused on other ways to help his neighborhood. He battled super villains as the Falcon and slumlords as Sam Wilson, all while using his social worker skills to help guide teenagers away from violence and substance abuse.
Avengers #64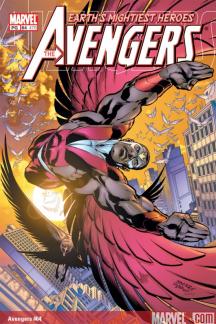 Falcon has yet to be able to turn off his social worker side, even when he's on the clock as an Avenger. When a scared mother begged Falcon to find her two missing children, the Avengers' government liaison Henry Peter Gyrich refused to let the super heroes get involved citing that kidnappings were not within their jurisdiction. Falcon ignored Gyrich's reasoning without hesitation and enlisted his many of his feathered friends to help track down the kids.
Check out Falcon's big screen debut on April 4 in "Captain America: The Winter Soldier"!