Kurt Wagner is an adult male who presents as in above average physical fitness with several unusual physical features including blue fur and a prehensile tail. He is a self identified mutant who operates under the "mutant name" of Nightcrawler.
Despite reports from multiple reports indicating that the client had died, he is alive and well. The client has confirmed that those reports are "accurate," but has so far refused to discuss exactly how he both "died" and is now alive. Similarly, he has declined to answer any questions about life after death. He appears unshaken in his well-documented Catholic faith so perhaps one can draw their own conclusions but this writer refuses to. Overall, it is the position of staff that this death and return be conceptualized as isolation from social supports after a physical trauma and then returning to said group after a significant passage of time. Regardless of whether Wagner truly died and was resurrected or was in some other way "taken away" from his life, it is thought that this conceptualization will well address his current life experience.
Amazing X-Men (2013) #1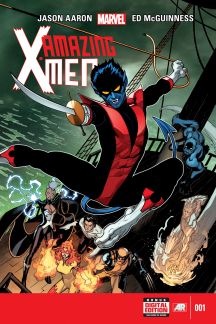 Wagner is, of course, no stranger to trauma. Abandoned by his biological parents (his mother is confirmed to be the sometimes terrorist known as Mystique) very quickly after his birth, his early years were actually largely loving and supportive despite his appearance. However, in late adolescence, things quickly went off track. In a short span of time (literally a day), Wagner was drugged and nearly abducted, his brother murdered several children and was killed himself, Wagner was accused of his brother's crimes and nearly killed by an angry mob, was seemingly abandoned by his foster mother, and brought to the United States. by Professor Charles Xavier. This would begin Wagner's long history with the mutant rights group the X-Men and its various sister organizations.
However, it must also be noted that the client has demonstrated tremendous resilience. Despite the volume of physical, emotional, and psychic trauma he has been on the end of, Wagner largely demonstrated an indomitable optimism. He is realistic, in the estimation of this writer, but does not close himself off from hope and that has allowed him to survive his life with very few signs of long-term suffering.
Nightcrawler #1
The client has returned to these associations now that he has returned and is grateful to be back with friends. Having said that, however, he also finds himself a bit adrift; time moved on without him and he is trying to learn the "new rules." His friends look the same (or similar, at least), but much has changed around them and they have been altered in ways big and small by those changes.
In session, he remains optimistic and friendly, but is also quick to acknowledge that he still feels a bit uncertain about who he is and where he belongs in this new world. He denies any feelings of long-term distress stemming from the physical trauma that may or may not have ended his life, but this early in the therapy it is possible he is simply reticent to disclose. The focus of therapy at this time is on building therapeutic rapport and helping the client address feelings of disconnect and loneliness.
Kurt Wagner's next appointment is set for April 9 with Doctors Chris Claremont and Todd Nauck. Session details will be made available in file NIGHTCRAWLER #1, available on that day.
Psy D. Candidate Tim Stevens is a Dialectical Behavior Therapy Consultant and Psychology intern at a small(ish) university in New York City.