Just as things started to be settling down in the world of late night television following "The Tonight Show" and "Late Night's" transition into the Jimmy Fallon/Seth Meyers era, David Letterman decided to cause a commotion. The late night mainstay announced yesterday that he will be stepping down as host of "The Late Show with David Letterman" after over twenty years and what will end up being well over four thousand episodes. If you factor in his stint as the host of "Late Night" in the '80's and early '90's, then 2015 will be the first year since 1981 without Letterman's specific style of late night charm.
Many Marvel fans may not know this, but Dave actually exists within the Marvel Universe! Back in 1984's AVENGERS #239, Earth's mightiest heroes paid a visit to "Late Night" – and brought a whole mess of mechanized mayhem with them.
Avengers #239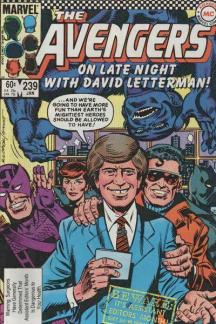 It's safe to assume that if Letterman's stepping down in our universe, then he's doing the same thing in the Marvel U. With that in mind, here are a few Marvel super heroes that could fill the late night void.
The X-Men's original jokester, Bobby Drake's quick wit and endearing everyman quality would make him a perfect "Late Show" host. Like Letterman before him, you know Iceman would get a kick out of getting snarky while working a Taco Bell drive-thru, and he'd really excel at off-the-cuff remarks during bits like Stupid Pet Tricks. But Bobby's real selling point has to be the characters he could bring along as a sidekick and bandleader – Beast and Dazzler!
Some people watch late night television for the absurd bits (think "Late Show's" Will It Float? segment), and some tune in for the interviews. As a former social worker and all around good guy, Sam Wilson has the potential to be a talk show host of the finest caliber. He knows how to talk to people, and he's well respected amongst his super hero peers. The guy's got charisma and empathy to spare, and his special mental connection with birds would make the semi-regular visits form zookeepers a must watch event. He could also partner up with another former Captain America sidekick, musician Rick Jones.
Letterman made a name for himself in the '80's for being a bit edgy. After all, his house band did call themselves the World's Most Dangerous Band. Deadpool's easily the most dangerous Marvel character that knows how to construct a one-liner. Guests might fear coming on this iteration of "The Late Show," what with all the grenades and swords Wade Wilson would insist on keeping underneath his desk, but the banter DP would make with his longtime prisoner/pal/late night sidekick Blind Al would put them at ease.
It takes real nerves of steel to put up with the special mix of controversial celebrities, important political figures, and rowdy studio audiences that sometimes come with the late night territory. Jessica Drew has those nerves on top of possessing a truly devilish sense of humor. She pokes and prods her Avengers teammates with witty barbs, all with a sly smile on her face. With Carol Danvers playing it straight from the couch next to her, she could easily navigate the sometimes-hazardous pop culture landscape.
People need a late night host they can relate to. As a super hero with way more personal problems than super powers, Clint Barton fits that bill. He's sarcastic and has a habit of defying authority, two traits that have served Dave well in his 30 years on the air, and he's mastered the art of self-deprecation. Hawkeye also has plenty of stories to tell from his time as an Avenger, and his status as a normal human amongst the super heroes would make those stories relatable to a wider audience. Barton's also got a band leader ready to go, one that has no problem calling him out on literally everything: Kate Bishop, fellow Hawkeye and master cellist.
Check out all of these heroes and more on Marvel Unlimited!