Among the new class of Young Guns, Nick Bradshaw's path to working in the Marvel Universe stands out for its uniqueness.
Bradshaw first came to Marvel's attention due to his charitable creative contributions to Hero Initiative. As a kid who grew up consuming all things Marvel, getting to become a creator for the House of Ideas, and now a Young Gun, clearly seems like a dream come true for Bradshaw. He relishes the opportunity to discuss his journey to Marvel and getting the chance to follow fellow Young Gun Sara Pichelli as series artist on GUARDIANS OF THE GALAXY.
Marvel.com: Am I correct in recalling that you broke into comics around 10 years ago, about 2004? Am I also right in thinking that you used to get feedback on your early work from the late Mike Wieringo?
Nick Bradshaw: Yep I did start in comics back in 2004. Mike used to contribute on an art forum started by Shane Glines. He had [messaged] me a few times with some feedback on my work and the odd e-mail. Meant a ton to get messages from someone like that whose work I had greatly admired. Keep in mind this was way before I actually started publishing work; this was while I was still playing around during college in the sketchbook and such.
Marvel.com: I would love to hear how you started working at Marvel; can you talk a little about that?
Nick Bradshaw: I was a regular contributor to the Hero Initiative, sketch covers and such. And [Marvel Senior Editor] Nick Lowe had seen a few of my full pieces and sketch drawings that went up for auction. He hit me up with some pinup work then the odd cover then offered me up [UNCANNY X-MEN ANNUAL #3]. All the while I was still working full-time in casino gaming [as an artist for a game design firm]. Then after the annual hit they offered me a contract; who could say no to that.
Marvel.com: It is safe to say your popularity with readers grew immensely when you worked with Jason Aaron on WOLVERINE & THE X-MEN. Did working on that series, and collaborating with Jason, help bolster your confidence in your art?
Nick Bradshaw: I've always considered and still consider myself a student in this. I want to always be getting better and moving forward. Working with writers like James Asmus, Jason Aaron and now [Brian Michael] Bendis is art wise amazingly challenging and each forces me forward to see my pages in a new way. I've always had the confidence to do this job only because I know I have much to learn and want to keep learning. Following up such talents like Jason Pearson, Chris Bachalo and now Sara on GUARDIANS OF THE GALAXY definitely is humbling and forces you to bring a bit more then you might own to the table.
Marvel.com: What is it about your art or your approach to storytelling that allows readers to connect with your work?
Nick Bradshaw: I keep it light and keep it simple. Sure there is a lot of detail but I try not to clutter a panel while leaving a lot of stuff going on to keep it interesting to the reader. I am a huge film buff, people in backgrounds in film aren't just standing there they are peppering the scene and making shots more believable. I try to do that with my pages as well. I want a reader to feel like they are a character in that scene. I also like to try a lot of stuff: visual angles, textures, environments.
Marvel.com Recently in INHUMANITY #2, you got to tell a story featuring Medusa. Among Marvel's many characters, even as Inhumans go, she's a distinctive character to draw and affords some great visual moments on the page. How much did you enjoy getting to take on that assignment?
Nick Bradshaw: I loved my contribution very much; I would love another crack at it to do more.
Marvel.com: In terms of great opportunities, how overjoyed were you when you learned Marvel wanted to have you draw GUARDIANS OF THE GALAXY?
Nick Bradshaw: I'm stoked—this is gonna be fun. I love drawing cute, fuzzy, homicidal action stars.
Marvel.com: Which element of the Guardians are you most enthused about drawing?
Nick Bradshaw: Like any book I just love drawing fantasy elements and characters in space there's just so much room to breathe. Everything is open to my interpretations and I get to design stuff on the fly. It's very tiring on the brain but even that much more rewarding once this stuff gets finished and colors start rolling in.
Marvel.com: What's the best part of working with GUARDIANS OF THE GALAXY writer Brian Michael Bendis?
Nick Bradshaw: Like any writer just handing me big, fun scripts. That's it; just these guys want to be geeks and make fun comics—we need a lot of fun and love in these comics.
Marvel.com: What do you enjoy most about working in the Marvel universe in particular?
Nick Bradshaw: I grew up in it. It's like working on a book you sort of wish you always wanted to be working on and depending on who's talking to whom on any given week you get the chance. This morning I got up and read a page of script and was like "Oh cool I get to draw that guy today—I've always wanted to draw that guy...what the hell does he look like now?" It's a blast
Marvel.com: Creatively what kind of projects or Marvel characters do you hope to pursue if given the chance?
Nick Bradshaw: Hulk; or Marvel Monsters. I would loooove to draw a Marvel Monsters book, just any Marvel monsters.
Guardians of the Galaxy #14 cover by Nick Bradshaw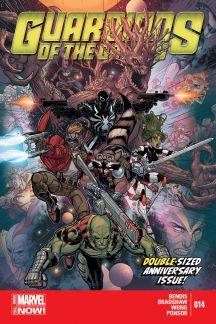 Follow Nick's work on GUARDIANS OF THE GALAXY and keep following Marvel.com for more coverage of the All-New Young Guns!