It's Monday, and that means that you've had to find the strength to shake off the after effects of a weekend well spent just to get back into shape for the weekday work-athon. It's tough, sure, but it's a fact of life – one that isn't lost on super humans either. Yep, Mondays mean back to work for super heroes too, as they trade in their uniforms for something more business casual.
Labels like "good" or "bad" don't really apply to Deadpool, a guy best described as a merc that just wants to work. Wade Wilson goes where the money goes, usually putting his equally rapid-fire weapons and repartee to work for some of Marvel's shadier characters. Sure, this means that DP's made enemies out of pretty much everyone with powers – good or bad – but the mercenary life pays pretty well. It at least pays well enough to make up for some of Wilson's more embarrassing assignments.
New Mutants #98
Deadpool made his debut back in 1991 as a killer-for-hire sent by the mysterious Mr. Tolliver to off Cable. Wilson didn't count on running into Cable's new protégés, the New Mutants, who helped their mentor fight off his loudmouthed attacker. In this first skirmish, 'Pool both broke his jaw and got literally stabbed in the back by his ex-girlfriend Vanessa (who had disguised herself as Domino to get in Cable's good graces). Beaten and humiliated, Cable ended up mailing Deadpool back to his employer.
Deadpool #1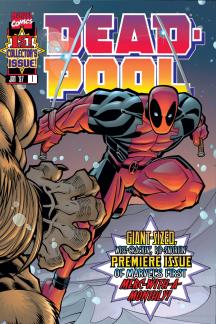 Readers got a glimpse of Deadpool's workspace in the initial issue of his first ongoing series. Many of Wilson's assignments over the years had originated in Chicago's Hellhouse, a mercenary garage that served up assassination jobs and ice-cold brewskies to a number of the world's deadliest hitmen. This particular job, which took DP all the way to Antarctica, set Wilson on a genuine – albeit relatively brief – heroic journey.
Deadpool #1
Wilson's freelancer status means that anyone can hire him, even good guys. When every deceased United States President rose from their graves as zombies, S.H.I.E.L.D. decided to temporarily make Deadpool one of Nick Fury's co-workers. Now with official S.H.I.E.L.D. firepower backing him up, Wade went about re-killing the reanimated POTUSes.
Follow the merc with a mouth's adventures in DEADPOOL!