In 1962, the legacy of Ant-Man began; today, over five decades later, the legend has come to encompass multiple heroes and will take shape as part of the Marvel Cinematic Universe in 2015.
To celebrate the 75th anniversary of Marvel as well as prepare for Marvel's "Ant-Man," coming to theaters on July 17, 2015, learn all about the history of this unique hero.
Shrinking Spider-Man and losing him to a subatomic world might've been a poor way to start a decade, but that's what Scott Lang managed to do in AMAZING SPIDER-MAN ANNUAL #24. With that out of the way, Ant-Man juggled a few solo adventures, such as when he defused an atomic bomb in MARVEL COMICS PRESENTS #81, but when a founding member of the Fantastic Four came calling, Lang knew he couldn't refuse.
Sue Richards, the Invisible Woman, brought Lang to Four Freedoms Plaza in FANTASTIC FOUR #384 as an electronics expert, someone who could work on sensitive equipment left behind by her presumed-deceased husband Reed, aka Mr. Fantastic. Lang threw himself into the task, not just because the work seemed interesting, but to be as close to the beautiful heroine as possible. After witnessing the kind of danger the Fantastic Four found themselves in, he finished working on a time-sled project for Sue in FANTASTIC FOUR #387.
As Ant-Man, Lang fought alongside the team as they made their way from one alternate reality to another. He met and battled Hank Pym as Giant Man in FANTASTIC FOUR #388, and saw an alternate future with a ruined New York City in FANTASTIC FOUR #389.


Fantastic Four (1961) #388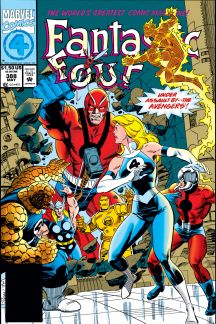 More adventures followed as the team faced off against the Watcher, Galactus, and the enigmatic Dark Raider, and Scott stuck with it all the way up through the return of Reed Richards in FANTASTIC FOUR #407.
At loose ends again, Ant-Man joined with Thunderstrike, War Machine, and She-Hulk to halt an evil scheme of Loki's in THUNDERSTRIKE #21. Triumphant, Lang suggested that the four heroes band together to form a new team, but they ultimately dismissed the idea and went their separate ways.
When New York City shuddered under the weight of Onslaught's Sentinel attack in X-MEN #55 and UNCANNY X-MEN #336, Ant-Man stood with his fellow heroes in battle, proving himself as valiant and courageous as the best of them.
Jim Hammond, the android Human Torch, asked Lang to join his new incarnation of Heroes for Hire, and in HEROES FOR HIRE #6, Ant-Man revealed himself to the team during their mission to help the Eternals. Though his new bio-electric sting came in handy, some members of the group grumbled at his covert inclusion. Things hit a bit too close to home when in HEROES FOR HIRE #7, Scott's daughter Cassie fell prey to the Super-Adaptoid, who used her mind to jump-start his own artificial one.
Things grew weirder for Lang when he found himself devolved by the High Evolutionary in HEROES FOR HIRE #13 and QUICKSILVER #11, later to be cured of the back-and-forth condition in HEROES FOR HIRE/QUICKSILVER ANNUAL 1998. The team disbanded in HEROES FOR HIRE #17 when the new owners ruled against keeping ex-cons on the payroll, so once again Ant-Man flew solo, unsure of what the future might still bring.
Read more on Marvel Unlimited