In 1964, Marvel premiered one of its enduring and exciting super heroes, Daredevil. Whether in his secret identity as blind lawyer Matt Murdock or using his enhanced radar senses, DD stood out from the crowd as an unrelenting crusader for justice.
To celebrate 75 years of Marvel, 50 years of the Man Without Fear and the upcoming debut of Marvel's "Daredevil" show on Netflix in 2015, we look back on the hero of Hell's Kitchen's remarkable history!
Daredevil (1963) #24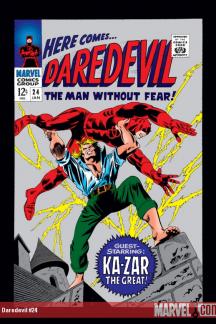 What's a hero to do when keeping his secret identity a secret hits the wall? Create an entirely new identity, that's what.
Flying back from an adventure overseas in DAREDEVIL #24, the Man Without Fear heard of his friend Ka-Zar being accused of crimes in London. There, the two heroes tracked down the real culprit, the Plunderer, and cleared Ka-Zar's name. Once back home, DD leapt into battle with the Leap Frog in DAREDEVIL #25 and devised one of the kookiest gambits ever: his own twin brother.
Mike Murdock burst onto the scene in DAREDEVIL #26, just in time to deflect Karen Page's suspicions and swing into action as Daredevil against both the Stilt-Man and Leap Frog. While the battle raged, the Masked Marauder reared his face again, but when he stood revealed as Nelson & Murdock's landlord Frank Farnum in DAREDEVIL #27, it fell to "Mike" to steal the show and take center stage.
Daredevil (1963) #28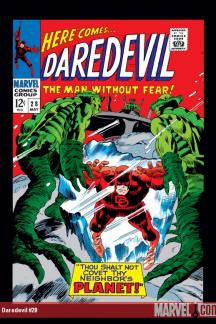 In
DAREDEVIL #28
, after lecturing at a college on aliens as a legal matter, Matt found himself face to face with real ETs who planned to cause blindness across the globe. Meanwhile, the Masked Marauder's former gang kidnapped Karen in
DAREDEVIL #29
for revenge, so Matt—wait for it—pretended to be Mike Murdock pretending to be Daredevil to throw a monkey wrench into the works; in the end, the decided to not confide in Karen about his secret life.
Things got even weirder when our hero then posed as the Mighty Thor in DAREDEVIL #30 to fool villains Mr. Hyde and Cobra. Thor himself swooped in to warn Daredevil to never pose as him again, but Matt found much more to be concerned with when Hyde's chemical spray robbed him of his enhanced senses. Literally blind, DD went to friend Foggy as "Mike" in DAREDEVIL #31, but changed back to his costumed to finally defeat his foes and gain the antidote to his condition in DAREDEVIL #32.
Daredevil (1963) #33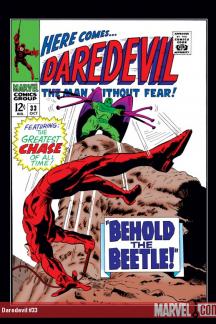 After failing to stop the armored Beetle in
DAREDEVIL #33
, "Mike," Karen and Foggy traveled to Montreal, Canada to attend the World's Fair. Waylaid by the Beetle's goons en route, Daredevil saw things go from bad to worse in
DAREDEVIL #34
when the criminal planned to reveal his identity on national television, but a little help from Foggy went a long way toward ultimately defeating the Beetle.
The Fantastic Four's enemy the Trapster demanded Nelson & Murdock represent him in court in DAREDEVIL #35, and then sent our hero into the stratosphere with a few anti-gravity discs. By the time Daredevil freed himself, the wily crook held the entire Baxter Building hostage, ready to blow it sky-high with a bomb!
Read more DAREDEVIL (1964) on Marvel Unlimited