Lorraine Cink
, along with special guest Rocket Raccoon, cover the huge stuff coming to Marvel's live action cinematic and television universe, including
Marvel's "Guardians of the Galaxy,"
"Marvel's Agents of S.H.I.E.L.D."
and
"Marvel's Agent Carter"
!
The newest edition of
The Watcher
is here!
Marvel's The Watcher 2014 - Episode 18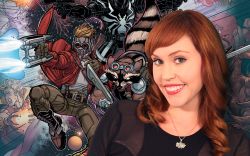 The Watcher is Marvel.com's official news and comedy video series covering comics, movies, TV, games, gear and all things Marvel. Tune in weekly for new episodes.