It's the start of the work week and that means that you've had to find the strength to shake off the after effects of a three day weekend well spent just to get back into shape for the weekday work-athon. It's tough, sure, but it's a fact of life – one that isn't lost on super humans either. Yep, super heroes are going back to work today too, as they trade in their uniforms for something more business casual.
Luke Cage doesn't draw a paycheck for the heroic deeds he performs nowadays as the leader of the MIGHTY AVENGERS, but that has not always been the case. In fact, before he became one of the most prominent members of Earth's Mightiest Heroes, Mr. Cage could be looked up in the phonebook under "hero for hire." That's right, the hero formerly known as Power Man used to pocket cold hard cash after saving those in need.
Amazing Spider-Man #123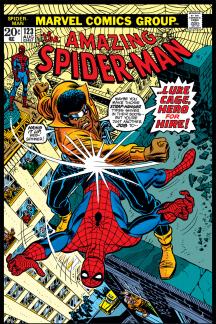 J. Jonah Jameson hired Cage to be a player in his one-sided grudge against Spider-Man, pitting the super strong Power Man against the wall-crawler. This marked the first time the hero for hire went up against another do-gooder, a fact that Cage noticed in between throwing punches. Spider-Man, another super hero known for his less than stellar financial situation, related to Cage, forming a bond between the two. Luke then gave his newly earned money back to Jameson – by shoving it in the manipulative publisher's mouth!
Daredevil #178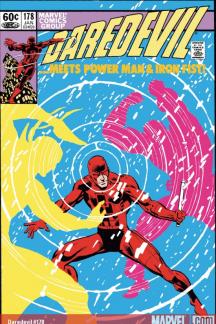 Power Man eventually found a kindred spirit in Iron Fist, a martial arts master with the power – and money – of a big time corporation behind him. Together, the two became heroes for hire and took on a job as bodyguards for Matt Murdock while the blind lawyer worked on a dangerous case. Cage didn't yet know about Murdock's dual identity as Daredevil. That knowledge would have prevented him and his partner from attacking the Man Without Fear following Murdock's unexpected disappearance.
Marvel Knights #11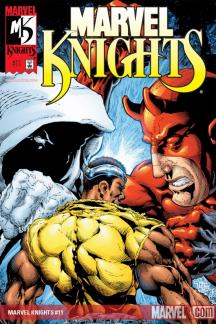 Luke Cage would become an even bigger team player years later, when Moon Knight employed him to join a newly formed team of street-level heroes. Before he could start fighting bad guys, though, Cage had to defend himself against disrespectful comments about his chosen profession. "The rest of you have day jobs," said Cage. "This is how I pay the rent. I fight the good fight. What's wrong if I make a buck doin' it?" Well said, Luke. The hero for hire wouldn't face any push back years later when Captain America summoned him to join – and later lead – his team of new Avengers. Now Cage fights on behalf of New York City's defenseless citizens as the leader of the Mighty Avengers.
Follow Luke Cage's adventures in MIGHTY AVENGERS!