Marcus Milton, who notably only refers to himself by and responds to the name "Hyperion," his costumed identity, presents as a man in excellent physical shape. Despite being human in appearance, he is, in fact, actually a different species. This race, that the client calls the Eternals, sent him to Earth as a baby where he was raised to be an upstanding moral person who happened to possess abilities and powers far above those of a typical human.
Inspired by these teachings, as an adult, the client became a costumed hero and joined with other costumed heroes, calling themselves the Squadron Supreme. This, however, was not our Earth; in time, tragedy befell this world and Hyperion was the only survivor. He was eventually dragged to our Earth by A.I.M., the possible terrorist state/formerly scientific terrorist group, and imprisoned. Recently, he was freed by the Avengers and joined them shortly thereafter.
In session, Hyperion is quiet to nearly the point of unresponsiveness. When he speaks, he seems thoughtful but is loath to speak more than absolutely necessary. At times, he seems almost as though he is aiming to be cryptic although this writer believes this to be more accidental than an intentional calculated image presentation.
Avengers (2012) #4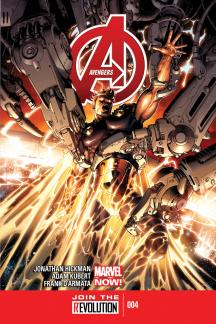 What the client has been clear on is his fatalist attitude. He often cites his own experience, the death of his world, as inevitability. He asserts it is not a matter of if our world will be destroyed but when. What does change from session to session is the client's attitude towards this unavoidable event. More and more, while his attitude has not changed, he seems to increasingly obsessed with the idea of not letting it happen. Essentially, a summary of his feelings appears to be: "The end of the world is going to happen, but I'm not simply going to sit and let it. Whatever destroys Earth will have to destroy me first." This writer is having difficulty assessing if this is indicative of a more towards a more hopeful perspective or a manifestation of a death wish born of survivor's guilt. For now, the staff is favoring the more hopeful interpretation while appropriately planning for the latter
Marcus Milton, better known as Hyperion, saw Doctors Nick Spencer and Marco Checchetto on May 21 and will see them again on June 18. Please see files AVENGERS WORLD #6 and #7 for their session notes.
Psy D. Candidate Tim Stevens, MA is a Dialectical Behavior Therapy Consultant and Psychology intern at a small(ish) university in New York City. He's kind of bummed about those alternate world versions of him that are currently quite dead.