It's Monday, and that means that you've had to find the strength to shake off the after effects of a weekend well spent just to get back into shape for the weekday work-athon. It's tough, sure, but it's a fact of life – one that isn't lost on super humans either. Yep, Mondays mean back to work for super heroes too, as they trade in their uniforms for something more business casual.
Thanks to years of super heroics and lengthy stints on teams like the Avengers and the Defenders, average Marvel Universe citizens might assume that the "Doctor" part of Stephen Strange's codename exists merely for show. Not true, True Believers, for before he became a master of the mystic arts, Doctor Strange gained fame as one of the best neurosurgeons around, a fact that definitely went straight to his head. While he may not be able to practice medicine nowadays, the good doctor has found a second career that allows him to save even more lives, usually from the comfort of his Sanctum Sanctorum.
Strange Tales #110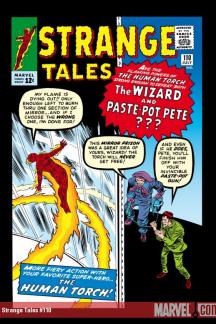 Strange's past didn't come into play when he first appeared. He instead entered the Marvel mythos as a mystery man making a modest living as a mystic consultant. Operating out of his Sanctum Sanctorum in Manhattan's Greenwich Village, Doctor Strange made his sorcerous powers work for him. He fought off extra-dimensional beings – Nightmare being the particular threat in his debut appearance – on behalf of his paying customers.
Strange Tales #115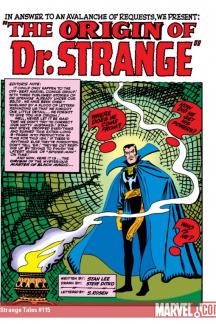 The Sorcerer Supreme's origin story unraveled a few issues later, as readers learned all about Stephen's history as the most arrogant neurosurgeon in New York City; he smoked cigarettes in the operating room, jacked up his prices, and dissed charity work. All that changed after a car crash permanently damaged the nerves in his hands. Strange sought the help of the previous Sorcerer Supreme, a hermit called the Ancient One, who set the ex-neurosurgeon on a much more mystical career path.
Dr. Strange: The Oath #1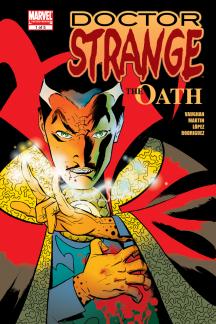 Strange's mastery of magic and medicine came in handy after he fell victim to a nearly fatal gunshot wound. Doctor Strange's assistant Wong rushed the near-dead sorcerer into the offices of Linda Carter, the Night Nurse. There, Strange used his astral projection powers to float his consciousness over Carter, guiding her hands through the complicated surgery that would save his life. Even after all those years spent fighting demons and away from medicine, Stephen Strange still knew his way around an operating room.
Follow Doctor Strange's team-up with the Punisher in ORIGINAL SIN #3, on sale this Wednesday!