It's Monday, and that means that you've had to find the strength to shake off the after effects of a weekend well spent just to get back into shape for the weekday work-athon. It's tough, sure, but it's a fact of life – one that isn't lost on super humans either. Yep, Mondays mean back to work for super heroes too, as they trade in their uniforms for something more business casual.
Business casual for Lockjaw, however, might just mean changing collars. Still, the Inhumans' dog-like sidekick puts in plenty of hours using his mighty teleportation powers to transport Black Bolt, Medusa, and other members of the Royal Family from one end of the galaxy to the other. Lockjaw fulfills the role of a pilot, airplane, and airport simultaneously, providing an incredibly essential service for a group of people that have at times chosen to live on the moon.
Fantastic Four #45
Lockjaw debuted alongside many other Inhumans back in 1965 and acted as Crystal's mode of transportation from New York City back to the Inhumans' home. Lockjaw's strange appearance startled Johnny Storm upon their first encounter – and Storm had seen a lot of weird stuff as a member of the Fantastic Four. Guess a nearly seven feet long bulldog with an antennae growing out of its head can really startle people.
Secret Invasion: Inhumans #3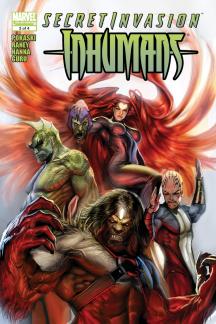 During Secret Invasion, Kree scientists gave the teleporter an upgrade that allowed him to instantaneously travel through the galaxy. Lockjaw used these boosted abilities to help the Inhumans launch a rescue mission for their king, Black Bolt, after the Skrulls kidnapped him.
Lockjaw and the Pet Avengers #1
Lockjaw's proved himself to be a hero in his own right during his many adventures alongside the Inhumans. Never have Lockjaw's heroic instincts been more apparent than when he tasked himself with finding the all-powerful Infinity Gems. The Inhuman then used his teleportation powers to assemble a team of heroic animals to form the Pet Avengers!
Lockjaw teleports into action this Wednesday in ORIGINAL SINS #1!