In the 1970's, Luke Cage—later Power Man—and Iron Fist represented attempts to create heroes rooted in real world trends, exploring the idea of street level adventures and the martial arts in the Marvel Universe. The two would form an unlikely but enduring team as the original Heroes for Hire.
With Luke Cage and Iron Fist firmly entrenched in the modern day as among Marvel's most complex and popular characters and both headed to television on Netflix, we look back at their respective and shared histories as we continue to commemorate the 75th anniversary of Marvel!
The origins of the Power Man-Iron Fist team lie in the incredible lives of two men who against all odds forged not only their individual paths, but a friendship that's withstood the test of time. The story began with a small-time criminal granted an amazing gift and the many barriers on his path to becoming a hero.
Hero for Hire #1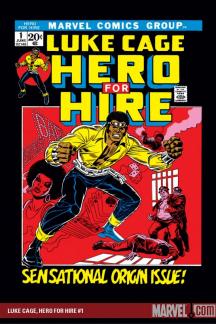 Sent to prison on false drug charges, gang member Carl Lucas catches the eye of an abusive guard in
HERO FOR HIRE #1
. When offered the chance to participate in an experimental cell regeneration project, he takes it, hoping it may help him with a parole. The experiment grants Lucas super-hard skin and augmented strength which he uses to burst out of prison and flee to the big city, knowing he must clear his name at any cost.
Deciding to hide in plain sight by taking the name "Luke Cage" and operating as a super hero, he meets Doctor Claire Temple in HERO FOR HIRE #2, and goes up against his first super villain, Diamondback. Soon, Cage's orbit intersects that of Gideon Mace in HERO FOR HIRE #3, Doctor Doom in HERO FOR HIRE #9, and Chemistro in HERO FOR HIRE #12, all the while romancing Claire and dodging his past.
That past reared its ugly head again in HERO FOR HIRE #15, but Cage turned to confront it head-on when he faced off against fellow-inmates Shades and Comanche in HERO FOR HIRE #16. His quick-thinking and immediate action rescued Claire from a murder charge and the two happily reunited on the steps of the Hall of Justice.
FANTASTIC FOUR #168-170
. But, like with the Defenders, that too proved temporary, and Cage continued to make his own way through an increasingly more chaotic world.
Back in the city, Cage tackled the problem of Piranha Jones in POWER MAN #30, a deadly assassin called Spear in POWER MAN #33, an all-new Chemistro in POWER MAN #36, and the return of Gideon Mace in POWER MAN #43. Though he insisted that he operated best as a solo hero, he once again answered a call for help from the Defenders to tussle with the Plant Man in DEFENDERS #37, and stuck around until the debacle of the Red Rajah in DEFENDERS #44-45 reminded him that keeping his feet firmly on the ground remained his first, best course of action.
With the threat of blackmail hanging over his head and lured into a confrontation with private detectives Misty Knight and Colleen Wing by Bushmaster in POWER MAN #48, Cage found himself knocked for a loop – literally – by a young man who'd soon become a very important figure in his life.
Read more comics featuring Luke Cage on Marvel Unlimited