In the 1970's, Luke Cage—later Power Man—and Iron Fist represented attempts to create heroes rooted in real world trends, exploring the idea of street level adventures and the martial arts in the Marvel Universe. The two would form an unlikely but enduring team as the original Heroes for Hire.
With Luke Cage and Iron Fist firmly entrenched in the modern day as among Marvel's most complex and popular characters and both headed to television on Netflix, we look back at their respective and shared histories as we continue to commemorate the 75th anniversary of Marvel!
Marvel Premiere #15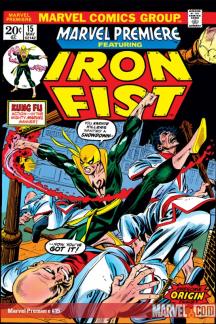 Before he met Luke Cage, Danny Rand forged his own path as Iron Fist, martial arts warrior trained in an other-dimensional city; a stranger in a strange land who quickly learned he possessed everything it took to become a hero.
Iron Fist passed the final test to win the right to leave the alien city of K'un-Lun in MARVEL PREMIERE #15, but remembered well the murder of his father years before that had exiled him as a child. Danny chose to depart and return to our plane to seek Wendell Rand's murderer, Harold Meachum, and exact revenge.
Desiring the reward for the head of Iron Fist, the villainous Scythe attacked the young man in MARVEL PREMIERE #16, but Danny made it past him and to Meachum's building in MARVEL PREMIERE #17, only to find it full of death-traps. MARVEL PREMIERE #18 revealed that Meachum lost his legs in the assault on K'un-Lun years before, so Danny walked away from the final confrontation, only to witness his father's killer die by the sword of a mysterious ninja. Joy, Meachum's daughter, angrily accused Iron Fist of the dark deed.
Danny met private investigator Colleen Wing and her father Professor Wing in MARVEL PREMIERE #19, who told him in MARVEL PREMIERE #20 that a cult sought a book he possessed that described a way to destroy K'un-Lun. Ward Meachum, brother of Harold, hired Batroc the Leaper to bring in Iron Fist and Danny discovered that the professor somehow released the ninja that killed his foe. In MARVEL PREMIERE #21, the ninja, a spirit entity, separated from Wing and battled Iron Fist in the Living Goddesses temple of Kali, but found himself dispelled from Earth in MARVEL PREMIERE #22.
Rand tried to start a new life for himself, but soon crossed paths with Warhawk in MARVEL PREMIERE #23, the robotic Monstroid in MARVEL PREMIERE #24, and Angar the Screamer in MARVEL PREMIERE #25. He also lost Colleen to a kidnapping and swore to find her, with some help from her partner, Misty Knight, in IRON FIST #1.
After a tussle with Iron Man in IRON FIST #2, Danny recalled memories of his rival in K'un-Lun, Davos, who lusted after the power of the Iron Fist. Little did he suspect that a mysterious new enemy hired Davos to do his bidding. Iron Fist flew to London to search for Colleen in IRON FIST #3, but fought the Ravager instead. In IRON FIST #4, Joy Meachum made it clear she still desired Iron Fist to be brought to justice for her father's death.
Colleen's abductor, Master Khan, indoctrinated her to hate Danny in IRON FIST #5 and our hero inherited a quarter of a billion dollars in IRON FIST #6. That didn't help him in the slightest when he reluctantly squared off against Colleen in a furious fight, made all the more difficult by Angar's ability to invoke a "mindstorm." Iron Fist helped Colleen shake off her brainwashing in IRON FIST #7, and she in turn slew Angar in vengeance. Meanwhile Khan revealed a portal to K'un-Lun to Danny and that the city's leader, the August Personage in Jade, stood responsible for the death of his mother.
Iron Fist (1975) #14
Back in New York City, Danny confronted a number of challenges, such as the crime lord Chaka in IRON FIST #8-10, the criminal band called the Wrecking Crew in IRON FIST #11-12, Boomerang in IRON FIST #13, and Sabretooth in IRON FIST #14.
In IRON FIST #15, Danny battled both Davos, whom he failed to recognize, and the X-Men. Davos, now calling himself the Steel Serpent, stole Iron Fist's mystical powers in MARVEL TEAM-UP #63, but with the help of Spider-Man, Colleen, and Misty he took back what he'd won in K'un-Lun in MARVEL TEAM-UP #64, hopefully defeating Davos forever.
A man named Luke Cage burst in on the two private investigators in POWER MAN #48, forcing Iron Fist into a showdown that would irrevocably alter his path in life.
Read more comics featuring Iron Fist on Marvel Unlimited