It's Monday, and that means that you've had to find the strength to shake off the after effects of a weekend well spent just to get back into shape for the weekday work-athon. It's tough, sure, but it's a fact of life – one that isn't lost on super humans either. Yep, Mondays mean back to work for super heroes too, as they trade in their uniforms for something more business casual.
Just judging by his generally gruff demeanor and habit of going into bloodthirsty berserker rages, one wouldn't necessarily peg Wolverine as the type to choose to be an educator of children. But that's exactly what the hirsute hero did in the wake of his schism with Cyclops and his more militaristically minded X-Men. Logan founded the Jean Grey School for Higher Learning on the same grounds in Westchester where the original Xavier's School for Gifted Youngsters once stood.
Wolverine & The X-Men #1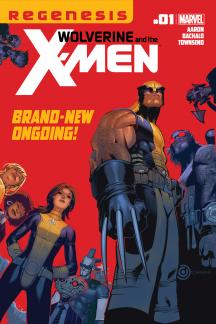 As acting headmaster, Wolverine took it upon himself to give his old mentor Professor Xavier a guided tour of the campus on its opening day. From weaponized bathrooms to rambunctious blue-furred demons, Wolverine had his work cut out for him pretty much from the get-go. But not even the campus grounds coming to life and threatening to devour the school whole could compare to the
real
big threat—board of education inspectors!
Wolverine & The X-Men #25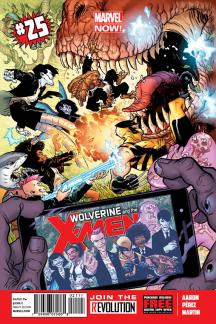 Being the headmaster doesn't mean that Logan's trapped in his office all day. In between his many adventures on his
many
super hero teams, Wolverine sometimes gets to take his students on field trips. As part of his Survival 101 class, Logan took a group of students on a mission to the Savage Land where they met dinosaurs and one of Logan's long lost family members—both of which turned out to be quite deadly.
Wolverine & The X-Men #29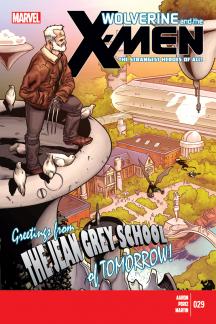 This special issue rockets ahead 25 years into a possible future to show off the long-lasting effects of Wolverine's decision to settle down—or at least his definition of the phrase—and start the Jean Grey School. Compared to some of the horrific futures glimpsed in past X-Men adventures, this detour feels comparatively peaceful even if it does follow in the wake of Xavier's murder.
Check out Logan's last days in WOLVERINE #10, on sale this Wednesday!