Join Lorraine Cink and Judy Stephens, as they check in on the progress of super seamstress, Carly Brandt. Together they'll delve into the process of draping, the importance of pattern making, how to to keep a hero in stitches, and we'll finally see just how far our Scarlet Witch costume has come so far.
Marvel Method: Cosplay - Episode 2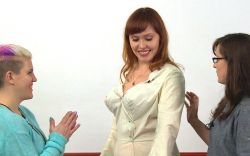 "Marvel Method: Cosplay" is the first Marvel Original Video Series to go inside the process of building a Marvel costume, culminating in its big reveal at San Diego Comic-Con 2014. Fans will get an inside look at the process of character selection, wearable design and fabric construction all leading up to the final reveal on opening day of San Diego Comic-Con at the Marvel booth on Thursday, July 24.

For more on Marvel's presence and announcements this year at San Diego Comic-Con, please visit Marvel.com. Join the conversation on Twitter with #MarvelSDCC and don't forget to follow us at @Marvel.