In 1964, Marvel premiered one of its enduring and exciting super heroes, Daredevil. Whether in his secret identity as blind lawyer Matt Murdock or using his enhanced radar senses, DD stood out from the crowd as an unrelenting crusader for justice.
To celebrate 75 years of Marvel, 50 years of the Man Without Fear and the upcoming debut of "Marvel's Daredevil" on Netflix in 2015, we look back on the hero of Hell's Kitchen's remarkable history!
With intrigue both political and criminal swirling around him, Matt Murdock put his Daredevil persona to good use in 1976 as he battled on the streets and in the skies and met an assassin who'd soon become one of his most deadly, persistent foes.
Daredevil #131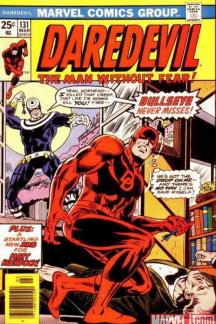 When the Man-Bull lost his trial in DAREDEVIL #129, he blamed—who else?—his lawyer, Matt Murdock. One rampage and some unwanted interruptions from the Matador later, the Man Without Fear corralled the beast-man in time for Foggy Nelson's re-election campaign. Unfortunately, Matt's former partner lost his bid for District Attorney in DAREDEVIL #130 to Blake Tower, but joined with Matt once again for a special new project: a storefront legal clinic for the poor in New York City.
Deep into the shocking revelation of girlfriend Heather Glenn's father as a slumlord in DAREDEVIL #131, our hero stood unprepared for the debut of Bullseye, a mysterious mercenary who killed for pleasure and profit. Daredevil met the hired killer in a pitched battle, which spilled over into a circus in DAREDEVIL #132 and ended with Bullseye's defeat.
DAREDEVIL #133 revealed that the Jester lurked behind the smear campaign against Foggy Nelson, but DD found plenty to keep him busy when he aided mentalist Uri Geller against his foe Mind-Wave. Then, in DAREDEVIL #134 Torpedo returned, only to be impersonated by the wily Chameleon.
The Jester upped his ante in DAREDEVIL #135 when he framed Murdock for murder, but Matt played along with the script to find a way to break apart the frame-up from the inside. Posing as none other than the President of the United States, the emboldened Jester called for the deaths of all super heroes in DAREDEVIL #136, but ultimately met his defeat by the Man Without fear when he got too cocky and slipped up in DAREDEVIL #137.
Daredevil helped Iron Man out in a fight against the Blood Brothers in IRON MAN #89, guessing that separating the two menaces would lead to their downfall. Later, while visiting Los Angeles, our hero ran afoul of Smasher and his boss Death's Head while searching for his former flame Karen Page. Ghost Rider zoomed in with ally Stuntmaster to help out in GHOST RIDER #20, and when unmasked, Death's Head turned out to be Daredevil's old nemesis Death-Stalker. After the battle, Matt and Karen realized that they saw each other only as friends, and put their shared love behind them forever.
A mad bomber occupied Daredevil's time upon his return to New York in DAREDEVIL #139, then DD wrapped up his strenuous year with a revenge plot by the Gladiator and the Beetle in DAREDEVIL #140.
Read more DAREDEVIL (1964) on Marvel Unlimited