With the final costume in hand, Lorraine Cink and Judy Stephens chat with famed cosplayer Yaya Han on tips for walking the Comic-Con floor! Plus, see a tease of Scarlet Witch in action as Judy and Lorraine set out for a secret photo shoot in Central Park.

Stay tuned to marvel.com/sdcc2014 for the final reveal of Lorraine's Scarlet Witch costume on Marvel LIVE! Thursday, July 24th at 9:30am PST!
Marvel Method: Cosplay - Episode 4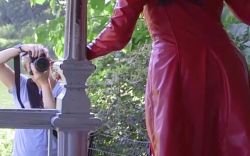 "Marvel Method: Cosplay" is the first Marvel Original Video Series to go inside the process of building a Marvel costume, culminating in its big reveal at San Diego Comic-Con 2014. Fans will get an inside look at the process of character selection, wearable design and fabric construction all leading up to the final reveal on opening day of San Diego Comic-Con at the Marvel booth on Thursday, July 24.

For more on Marvel's presence and announcements this year at San Diego Comic-Con, please visit Marvel.com. Join the conversation on Twitter with #MarvelSDCC and don't forget to follow us at @Marvel.