In 1964, Marvel premiered one of its enduring and exciting super heroes, Daredevil. Whether in his secret identity as blind lawyer Matt Murdock or using his enhanced radar senses, DD stood out from the crowd as an unrelenting crusader for justice.
To celebrate 75 years of Marvel, 50 years of the Man Without Fear and the upcoming debut of "Marvel's Daredevil" on Netflix in 2015, we look back on the hero of Hell's Kitchen's remarkable history!
Our hero began the final year of the 1970's with a battle against himself and ended it stuck in a very precarious position.
Peter Parker, the Spectacular Spider-Man (1976) #27
Deep within a coma, Matt Murdock faced off against his own dark past in DAREDEVIL #156, while in the waking world his foe Death-Stalker continued to spread panic with his schemes.
Once awake, Daredevil happened upon a sightless web-slinger in PETER PARKER, THE SPECTACULAR SPIDER-MAN #26, the aftermath of Spidey's struggle against the Masked Marauder. Matt tried to help his friend cope with his blindness in PETER PARKER, THE SPECTACULAR SPIDER-MAN #27, then stood by his side to confront the Marauder and the Tri-Man in PETER PARKER, THE SPECTACULAR SPIDER-MAN #28.
Daredevil (1963) #158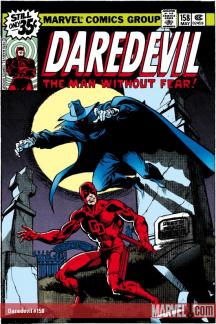 In DAREDEVIL #157, the Man Without Fear found allies in Earth's Mightiest Heroes as he and the Avengers took on Death-Stalker and the Ani-Men. Later, Bird-Man, Ape-Man, and Cat-Man kidnapped Matt Murdock in DAREDEVIL #158 and delivered him to Death-Stalker at a cemetery. During the subsequent fight, DD's foe accidentally materialized in the middle of a tombstone, killing him immediately.
Matt aided the Sentinel of Liberty in CAPTAIN AMERICA #235 to search for Cap's longtime enemy Dr. Faustus. After locating the evil doctor and his partner, the Grand Director, in CAPTAIN AMERICA #236, Daredevil piloted an Avenger Quinjet to take Cap to Faustus' dirigible and the final battle that would take down the criminals once and for all.
Daredevil (1963) #160
Eric Slaughter, a New York crime boss, came out of retirement in DAREDEVIL #159 at the urging of the assassin Bullseye to attack the Man Without Fear. Meanwhile, Bullseye set his sights on Matt's old flame the Black Widow, and in DAREDEVIL #160 he captured the heroine as a way to lure our hero into a trap. DD swung to the Widow's rescue in DAREDEVIL #161, battling both Bullseye and Eric Slaughter's goons.
Finally, in AVENGERS #190, Matt donned his costume to follow the path of a falling meteor, which released the dread Grey Gargoyle upon crashing into the city. Daredevil's year and decade ended with the hero transformed into solid stone, the result of the Gargoyle's touch.
Read more DAREDEVIL (1964) on Marvel Unlimited