It's Monday, and that means that you've had to find the strength to shake off the after effects of a weekend well spent just to get back into shape for the weekday work-athon. It's tough, sure, but it's a fact of life – one that isn't lost on super humans either. Yep, Mondays mean back to work for super heroes too, as they trade in their uniforms for something more business casual.
It's probably a good thing that Nick Fury gravitates towards positions of power, because the guy definitely would not cut it as an average employee. He undermines everyone's authority, obeys only the commands that he gives, and has a resume filled with lies and redacted entries. A master spy like Nick Fury could probably get a job anywhere just using his deception skills, but because of his ego and commitment to keeping the world safe from threats, he would be the least attentive employee ever.
Sgt. Fury and His Howling Commandos #1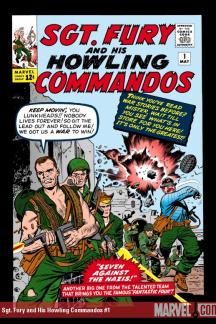 Nick made his debut in the Marvel Universe as the leader of a ragtag fighting squad in World War II. His gruff demeanor and tough-as-nails attitude made the rest of his troops fall in line. His leadership skills inspired them so much that most of his Howling Commandos later followed him to S.H.I.E.L.D. when Fury traded in camouflage for a black jumpsuit and made the transition from army man to secret agent.
Secret Warriors #1
Note to bad guys everywhere: firing Nick Fury from his job just makes him work harder. When Norman Osborn took control of S.H.I.E.L.D. and turned it into the crooked organization called H.A.M.M.E.R., Fury worked overtime to put a stop to both Osborn's army as well as the international terrorist group called HYDRA. Fury's reputation helped him lock down a number of key operatives after they quit H.A.M.M.E.R., and the super spy even got back into the human resources game by recruiting a new group of young super heroes.
ORIGINAL SIN
event series, pretty much every minute of Fury's downtime has been spent clocking hours as the "Man On the Wall"—Earth's covert line of defense against both other worldly and other dimensional invasions. This came as a surprise to the heroes gathered in his secret HQ, especially since it meant that any of the Nicks they had previously interacted with over the years could have been life model decoys!
Nick Fury punches the clock for what might be the last time in ORIGINAL SIN #7!