In 1964, Marvel premiered one of its enduring and exciting super heroes, Daredevil. Whether in his secret identity as blind lawyer Matt Murdock or using his enhanced radar senses, DD stood out from the crowd as an unrelenting crusader for justice.
To celebrate 75 years of Marvel, 50 years of the Man Without Fear and the upcoming debut of "Marvel's Daredevil" on Netflix in 2015, we look back on the hero of Hell's Kitchen's remarkable history!
Could there be anything worse than kicking off a new decade as a stone statue, unable to communicate with everyone around you? Matt Murdock found out as 1980 rolled on to set him in the path of danger again and again.
Daredevil #162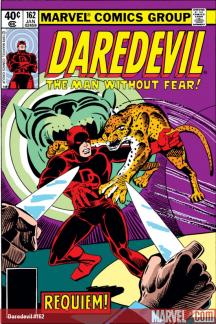 Earth's Mightiest Heroes fought valiantly against the dreaded Grey Gargoyle in AVENGERS #191 to free their friend Daredevil from the villain's stony grip. After defeating the Gargoyle, the Avengers insured that the Man Without Fear returned to his normal flexible self, thanked him for his service, and wished him luck in the year that lay ahead.
After a bout with amnesia and a turn in the boxing arena in DAREDEVIL #162, Matt tested his mettle against none other than the Incredible Hulk. Our hero somehow convinced the behemoth to change back into Bruce Banner in DAREDEVIL #163, but ended up trying to block the Hulk's penchant for rampage a second time…which didn't go well.
Daredevil #164
Tenacious Daily Bugle reporter Ben Urich began to suspect Murdock moonlighted as Daredevil after a chance remark from Matt's girlfriend Heather Glenn, and scored a scoop in DAREDEVIL #164 when the hero confirmed the truth of it. Relating his origin to Urich, DD explained that if the story got out, it would effectively end his costumed career. The reporter, realizing the hero's importance to the people of New York, killed his article and walked away.
Spider-Man's longtime foe Doctor Octopus went arm to arm to arm with Hornhead in DAREDEVIL #165 when Heather discovered her company unwittingly did business with the criminal. Meanwhile, Matt's former flame the Black Widow watched him and Heather together and acknowledged that nothing remained of her own relationship with the hero.
Daredevil #166
The Gladiator took a group of kids hostage at a museum in DAREDEVIL #166, forcing the Man Without Fear into a new confrontation with the armored crook. Luckily, the fight didn't manage to slow Matt down as he rushed across town to attend the wedding of his partner Foggy. Later, Daredevil, always ready to swing into action, took on the Mauler in DAREDEVIL #167.
In DEFENDERS #89, DD clashed with members of Fem-Force while trying to defend Nighthawk in a court case, only to end up knocked senseless by the fighting females. Nighthawk and Valkyrie took pains to rescue Daredevil in DEFENDERS #90, putting a capper on another crazy year in the life of the sightless super hero.
Read more DAREDEVIL (1964) on Marvel Unlimited