For 75 years, Marvel has pulled people to their comics with incredible cover art, putting forward promises of big action and high drama with a single eye-demanding image. For the up-coming MARVEL 75th ANNIVERSARY SPECIAL, Marvel needed an artist to capture all that history, all those thrills, all the great characters in one cover.
Naturally, they turned to Paolo Rivera.
Rivera recently took the time to speak to Marvel.com about how the cover came to be, his first Marvel comics as a fan, and his experience seeing the first issue he ever drew.
Marvel: How did you end up getting chosen and agreeing to do the cover for the MARVEL 75th ANNIVERSARY SPECIAL?
Paolo Rivera: I just got an e-mail from Tom Brevoort and he actually had a little sketch of exactly what he wanted. Everything was just done with his mouse on the computer, but it was all I needed. He gave me the basic composition and just said, "As far as the background goes, just go nuts. You know…whatever you want." So I did.
I asked him [if] I could break it out in panels instead of more traditional montage. It was cool and I went from there.
Marvel: I was aware that he had done a very loose sketch to start with, but I was curious how you determined who you wanted in the background for those panels? By what process did you end up choosing those characters?
Paolo Rivera: I threw a few in there that I was either less familiar with. For instance, I've actually never read a Deadpool comic in my entire life, but I figure I should throw him in there.
The main thing, if I had a sort overarching plan, it was to sort of try and involve something from every Marvel era. Even if they were characters who were related or connected to each other, I try to represent that from different eras of Marvel's history, as opposed to their own history.
Marvel: A big part of the cover that did not make [Brevoort's] sketch was the concept of Spider-Man coming out of the wall toward Peter Parker. How did you hit upon that part of the image?
Paolo Rivera: We weren't quite sure what we wanted to do with Spidey at first. I tried to have him swinging, but then, as I was actually drawing it, I hit on the idea of having him as if he was coming right out of one of the panels towards the audience.
Marvel: I have noticed that you have a few different styles you draw on to create the art you produce. Why did you end up going with the painterly approach in this case? What made you feel like it was best for the project?
Paolo Rivera: Tom asked for it, specifically. He usually asks for my painted stuff. Once they told me what the project, I know what it was going to be. He just wanted something special.
The painted stuff definitely takes a lot longer so I try to only do it for covers that are important to me.
But yeah, he asked for [it] and I said yes. I don't paint a whole lot anymore, so now when I do I try to save it for the special ones.
Marvel: As we are on the subject of Marvel's history, is there any story that you remember as being your first Marvel comic?
Paolo Rivera: There were a couple. My dad had a copy of AMAZING SPIDER-MAN #33. That was the famous one where he's fighting Doc Ock and the wall comes down on Spidey. I remember that pretty well.
I'm not sure why [my dad] had it because he never had a huge collection but he had that issue. It's always stuck with me because I read it over and over again.
The other one that comes to mind is…it's an Art Adams drawn issue of Spidey…I think it's WEB OF SPIDER-MAN. He's in the black costume. I remember that pretty well.
Oh, and actually Mike Mignola did a back-up story in that that was pretty awesome.
But, yes, there are a ton of other ones, but those are the two that my dad had so I had those from my earliest times I can remember.
Marvel: As a creator, do you recall your experience coming on to the book, being, officially, someone did art for Marvel?
Paolo Rivera: Oh, it was awesome. An absolute dream come true. I got into the offices thanks to Jim Krueger, who wrote EARTH X. He introduced me to a few editors. Joe Quesada hired me and Tom Brevoort gave me my first job, which was a cover of IRON MAN. That was #63 back in 2002.
Marvel Double Shot #2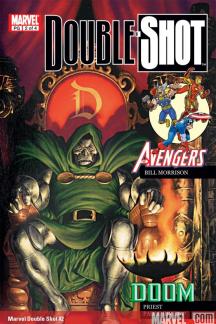 Even though I did that one first, it was actually published later. So my first published work is actually Dr. Doom; it was MARVEL DOUBLE SHOT #2, written by Priest. That one was just an 11-pager, but it was my first story.
I went to my comic shop, my local shop in Florida and I told them I had a new book coming out in the next week. He just looked at me and said, "You know, we get all those things a week in advance." Then, he pulled it out. I wasn't even expecting to see it and I got to hold it a week ahead of time which was amazing. My dad was there too and he thought it was pretty cool.
Stay tuned to Marvel.com for more on the MARVEL 75TH ANNIVERSARY SPECIAL and visit marvel.com/75 today!