In 1964, Marvel premiered one of its enduring and exciting super heroes, Daredevil. Whether in his secret identity as blind lawyer Matt Murdock or using his enhanced radar senses, DD stood out from the crowd as an unrelenting crusader for justice.
To celebrate 75 years of Marvel, 50 years of the Man Without Fear and the upcoming debut of "Marvel's Daredevil" on Netflix in 2015, we look back on the hero of Hell's Kitchen's remarkable history!
The sudden arrival in 1981 of the assassin Elektra in Matt Murdock's life signaled a sea-change in his career as Daredevil, one that brought darkness and even more tragedy. After that moment, nothing would ever be the same for the Man Without Fear.
Daredevil (1963) #168
In DAREDEVIL #168 Elektra debuted as a figure from our hero's past, a fleeting romance from his school days. Within a shockingly short time, she became not only a thorn in his side, but, eventually, a valuable ally.
After Daredevil aided the infamous non-team against his old foe the Mandrill in DEFENDERS #91, a more-recent enemy, Bullseye, suffered from a brain tumor in DAREDEVIL #169, one that led him to kill anyone he hallucinated as his foe. The Kingpin of Crime hired the legal team of Nelson and Murdock in DAREDEVIL #170 through his proxy, his wife Vanessa, while he stayed safe overseas. The same mob that Kingpin hoped to turn state's evidence against, though, nabbed Vanessa, forcing a showdown between Daredevil and Bullseye.
Daredevil (1963) #171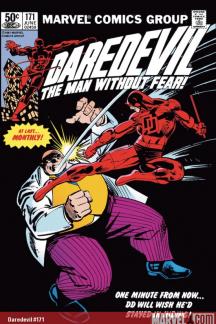 Matt disguised himself as a gangster in DAREDEVIL #171 to infiltrate the Kingpin's organization, but received the beating of a lifetime when the big man discovered the ruse. Then, tragically, the mob eliminated the one person Kingpin valued over all others: Vanessa. Reeling from her death, he hired Bullseye in DAREDEVIL #172 to put an end to our hero, but DD won his battle with the assassin and then walked away, maintaining the crime boss' power.
Following the hunt for a killer and the clearing of the Gladiator's name in DAREDEVIL #173, Matt and the armored criminal teamed with Elektra in DAREDEVIL #174 to confront the Hand, the clan of ninjas that trained the female warrior. Then, when Murdock's office exploded from a surgical strike by the Hand, he lost his treasured radar sense in the overwhelming blast. Almost completely and truly blind, Daredevil relied on Elektra once more when they faced off against the Hand and their current champion Kirigi in DAREDEVIL #175.
Daredevil (1963) #176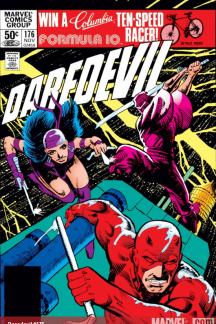 Unsure of which way to turn, Matt and Elektra sought out their old teacher Stick in DAREDEVIL #176 while a new Mauler exploded onto the scene. Elektra took the fight to Kirigi again, this time running him through and ending his reign of terror once and for all.
Stick worked with his former student to help him clear his mind and regain his radar sense in DAREDEVIL #177, which proved invaluable when Daredevil found himself in a confrontation with Moon Knight brought about by the Jester in MOON KNIGHT #13.
Read more DAREDEVIL (1964) on Marvel Unlimited