It's Monday, and that means that you've had to find the strength to shake off the after effects of a weekend well spent just to get back into shape for the weekday work-athon. It's tough, sure, but it's a fact of life – one that isn't lost on super humans either. Yep, Mondays mean back to work for super heroes too, as they trade in their uniforms for something more business casual.
Very few super heroes have their job title right there in their code names, but that didn't stop Charles Xavier from choosing—or perhaps getting stuck with—the moniker Professor X. As the headmaster and namesake of Xavier's School for Gifted Youngsters (and later the Xavier Institute for Higher Learning), Chuck tasked himself with teaching mutants how to cope with their super powers and realize their full potential. He also probably taught classes that didn't involve killer robots and the Danger Room, but those rarely made it onto the printed page. Professor Xavier may not be around anymore, but his sprit lives on in the form of two mutant schools run by Wolverine and Cyclops.
Uncanny X-Men #1
Charles Xavier's unique school made its debut alongside the rest of the X-Men way back in 1963. Back in the old days, Xavier used souped-up gymnastic equipment to put his students through their paces; he wouldn't receive the modern Danger Room technology until much later on, after an encounter with the alien race known as the Shi'ar.
New Mutants #1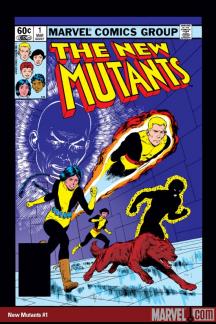 With his team of X-Men presumed dead, Xavier took in an all-new batch of teenage mutants in desperate need of his instruction. This new class—consisting of Cannonball, Psyche, Wolfsbane, Sunspot, and Karma—had to tackle hazardous holograms in the Danger Room in addition to their homework. Xavier would eventually hand off his headmaster duties to Magneto, a decision that did not sit right with the teens at first.
X-Men Legacy #208
After taking a bullet to the head, Xavier needed all the help he could get reconfiguring his fractured psyche. This issue features a number of flashbacks to the X-Men's early days, including a few of Charles' altercations with his professional partner Moira MacTaggert and a teenage Cyclops about the well-being of the newly formed team.
What's in Professor X's last will and testament? Find out this Wednesday in UNCANNY X-MEN #25!