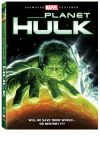 Ready for another rip-roarin' Hulk animated feature?! Good, because "Planet Hulk" arrives on DVD and Blu-ray February 2, 2010!
Until then, tune in to Marvel.com every day for brand new EXCLUSIVE screenshots, concept art, storyboards, style guides and more from "Planet Hulk!"

A whole new world of hurt! Betrayed by Earth's heroes and exiled into outer space, the man-monster Hulk has landed on the distant planet Sakaar, ruled by the tyrannical Red King. Sold into slavery, Hulk becomes the Green Scar, the planet's mightiest gladiator - but his new masters get more than they bargained for.
Couldn't make it to the "Planet Hulk" world premiere Thursday, January 14? Fret not, because we're giving you a back stage look at the action-packed event including interviews with Marvel Editor in Chief Joe Quesada, Marvel Animation President Eric Rollman, writer Greg Pak and WWE Superstar Matt Striker. It's like you were there yourself!
Can't wait for the DVD/Blu-ray? Neither can we! Until then, check out some exclusive production sketches of Caeria, Hiroim, Hulk and Red King from "Planet Hulk" below!
Check out the official Marvel.com "Planet Hulk" hub for more!
To find a comic shop near you, call 1-888-comicbook or visit www.comicshoplocator.com
Not a subscriber to Marvel Digital Comics Unlimited yet? Join now!
Download SPIDER-WOMAN and ASTONISHING X-MEN Motion Comics now on iTunes! For more information on motion comics, visit the Marvel Motion Comics hub!"
Download episodes of "X-Men: Evolution", "Wolverine and the X-Men", "Fantastic Four: World's Greatest Heroes" and "The Super Hero Squad Show" now on iTunes!

Check out the official Marvel Shop for your favorite Marvel Heroes!