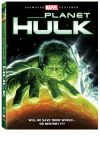 Ready for another rip-roarin' Hulk animated feature?! Good, because "Planet Hulk" arrives on DVD and Blu-ray February 2, 2010!
Until then, tune in to Marvel.com every day for brand new EXCLUSIVE screenshots, concept art, storyboards, style guides and more from "Planet Hulk!"

By TJ Dietsch

Greg Johnson's no stranger to Mighty Marvel. Previously, he's worked on UPN's "The Incredible Hulk" animated series in the late 90s and wrote the scripts for Marvel and Lionsgate flicks like "Ultimate Avengers," "The Invincible Iron Man" and "Dr. Strange." Now add to that one of the most anticipated animated films this year, "Planet Hulk!" That's right, Greg Pak's epic tale of the Hulk getting sent off to a far off planet where he's depowered and forced to fight in gladiatorial combat before breaking the bonds and becoming a hero of the people, is making its way to DVD/Blu-ray on February 2. We sat down with the writer to discuss everything from tackling such a large story to Pak's involvement to Johnson's favorite character to what his next projects are.

Marvel.com: How did you get involved with writing the "Planet Hulk" DVD project?

Greg Johnson: I've had a pretty strong relationship with Marvel over the years. I story edited "X-Men Evolution," wrote the first handful of these MLG [Marvel Lionsgate] movies...I think, to a large extent, it was a comfort factor that we all have had. It's a very productive working relationship. So when it came time to adapt something that was so huge they felt confident that I would be able to get it into a form where it could be told visually in 70-some odd minutes.

Marvel.com: You mentioned cutting it down, was it difficult taking a year-long comic story and turning it into an animated movie?

Greg Johnson: It was incredibly challenging. Basically, there's two ways of approaching adapting something like this. One is that you try and get everything you can compressed into the running time. The other is to work the other way, which is to figure out what the basic spine of the movie is. In this case, it's Hulk's journey. Then I added in things from the book where I could that would support his arc. So, we started with the basic premise and expanded it with a list of all of the incredible scenes from the book, plugging them in where we could and ultimately, once we were battling length, things had to get pulled out to establish the right balance.

Marvel.com: What are the challenges of working within such a limited amount of screen time?

Greg Johnson: It really has to be consistently written as a way that you can measure the length somewhat. So, keeping it within the page length is key. [Sometimes] you have a huge scene where you have a lot of backstory with your supporting characters that would have been really great to get into, but they didn't necessarily have any direct influence on what the Hulk was doing. In the course of our story we just couldn't stray that far from the basic narrative, so a lot of those scenes didn't get quite as developed as they would have if the running time had been a little longer.

Marvel.com: You mentioned the spine of the movie, is the story similar to that of the comic with Hulk getting stranded on Sakaar, fighting as a gladiator, breaking out and eventually fighting the Red King?

Greg Johnson: Yes, it's definitely the Planet Hulk story, there are large sections of the book where they expand on some of the different journeys, him out in the desert, him wandering, that there wasn't time for [in the movie]. When you watch this you'll see that the major set pieces are here, particularly in the beginning. The gladiator battles were kind of divided up in the book, some of them took place in this training place called The Maw. What we did is we took a lot of stuff from there [and moved it to the main arena] because we wanted to have three major battles in the arena and they needed to escalate. You'll recognize those scenes, they're just not in the same order or location you remember.

Marvel.com: With all the battles, will the Warbound be the same from the comic?

Greg Johnson: There are some who, for one reason or another, we were not able to use. They're basically the same. We have a cast that involves Hiroim, Elloe, Miek and Korg.

Marvel.com: While writing, did you develop a favorite character?

Greg Johnson: Miek was probably the most fun to write, just because he was a more fun character. I enjoyed writing Caiera because of the depth of her character and what she had gone through and why she had made the decision to support the Red King. I enjoyed her because she has such a great arc in this story. Miek has an arc, it's a simpler one, not quite as involved as it was in the book, but he becomes a character that grows on you throughout the film and by the end you're really rooting for him. And of course, Hulk's journey is really the one that this movie is built around. It was tremendous fun to actually put sentences in the Hulk's mouth. I've written the character in many different forms for many different projects, but he never really went beyond a monosyllabic beast where you can kind of illicit some sympathy at times, but that's about the extent. So this was a real thrill to get more involved in this project.

Marvel.com: What's the Hulk's mindset going into the story?

Greg Johnson: I love the fact that he came into this movie with some real baggage. He was betrayed by the people who had basically used his rage to solve massive problem, but then condemned him for the wake of destruction he would leave. He was just too volatile for them, so you can understand why they would want to get him off Earth, but to him, he felt betrayed. If he had any friends, it would have been the people he was helping. So when he lands on this planet he absolutely has a bag of rocks and its cool to see him shed that through the course of the film.

Marvel.com: Were you a Hulk fan coming into the project?

Greg Johnson: Oh yeah, I loved him. I did "Ultimate Avengers " which was nice but that was more Banner's story.  I've enjoyed his character, but I also felt like I had done Hulk enough. I didn't have a real hunger to do the old Hulk, which has appeared in several of the MLG movies and the [animated]  series'. I was involved in the 90s [animated Hulk] series. When I found out what this was, it totally reignited my enthusiasm. So, this was a great vehicle for his character that I was happy to ride on.

Marvel.com: Did you communicate with Greg Pak, the writer of the Planet Hulk comic series, at all during the process?

Greg Johnson: Marvel sent him the first draft of the script for his input and he sent back some very helpful and insightful notes clarifying some things and illuminating some of his motivations for certain things, the religious aspects and things like that. The schedule was really tight, so right after that it went into recording, so I don't know if he looked at any drafts after that first one.

Marvel.com: Was there a particular scene from the comic you really wanted to get into the movie, but couldn't due to time?

Greg Johnson: I don't want to mention it because it might be a spoiler, but I would really prefer that people enjoy what we did manage to weave into the story and not focus on the things we had to eliminate. It's very simple to point out all the things that are not going to be in it. Generally, I would have loved to have expanded on Miek's story more than I was able to.

Marvel.com: Can you talk about other Marvel projects that will be coming down the pike from you next?

Greg Johnson: I was also fortunate enough to write "Thor: Tales of Asgard," which will be the next [Marvel animated feature] out. And, I believe a segment of the movie will be shown in the special features of ["Planet Hulk"]. I'm head writer on "Wolverine and the X-Men." [This first season] was an incredible opportunity to do an X-Men series from the ground up, with one caveat, Wolverine needed to be in charge. So, it became a matter of coming up with a concept that logically put him in charge. It was very fun that had a continuity from beginning to end that culminated in a big finale. I kind of did that with various seasons of "X-Men Evolution," but not to this degree. I don't think that anybody watching the series would not be able to jump in at any point and get caught up on the major issues and still enjoy it. Every episode still has a beginning, middle and end.
Check out the official Marvel.com "Planet Hulk" hub for more!
To find a comic shop near you, call 1-888-comicbook or visit www.comicshoplocator.com
Not a subscriber to Marvel Digital Comics Unlimited yet? Join now!
Download SPIDER-WOMAN and ASTONISHING X-MEN Motion Comics now on iTunes! For more information on motion comics, visit the Marvel Motion Comics hub!"
Download episodes of "X-Men: Evolution", "Wolverine and the X-Men", "Fantastic Four: World's Greatest Heroes" and "The Super Hero Squad Show" now on iTunes!

Check out the official Marvel Shop for your favorite Marvel Heroes!