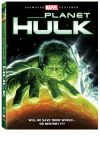 Ready for another rip-roarin' Hulk animated feature?! Good, because "Planet Hulk" arrives on DVD and Blu-ray February 2, 2010!
Until then, tune in to Marvel.com every day for brand new EXCLUSIVE screenshots, concept art, storyboards, style guides and more from "Planet Hulk!"

By TJ Dietsch
Rick D. Wasserman has been in your house and you don't even know it.
As the voice of everything from the [Ultimate Fighting Championship] and FOX Sports to "Mad Men" commercials and even video games like "Marvel Ultimate Alliance 2," his no-nonsense vocal tones have undoubtedly bounced off the walls of your humble abode. Now, Wasserman takes up a brand new challenge. In "Planet Hulk," as he voices the Incredible Hulk and joins a long line of performers that includes Lou Ferrigno, Eric Bana and Edward Norton in portraying the Jade Giant. As the "Planet Hulk" DVD/Blu-ray readies to hit shelves on Tuesday, February 2, Wasserman took some time to step away from his home recording studio and talk to us about the process he went through to land the role as well as his thoughts on the big bruiser himself.
Marvel.com: How did you get involved in "Planet Hulk?"

Rick D. Wasserman: I auditioned. I'm very new to animation. Most of the voiceover I do is promo and trailer and narration. For example I'm on a narration series of documentaries for MSNBC, I'm doing one for Discovery and then I've got a lot of promo stuff that I do. I'm the voice of Fox Sports, UFC, [American Movie Classics]. This is the stuff that I do every day, so I don't usually get to do a lot of animation or video games. Only recently, since early 2009, did my agents say "Let's give it a shot." I have a studio at home, so they sent me an audition and said they're looking for a Hulk; it's a different kind of Hulk because, to be sure, there are a number of guys who have played the Hulk before that are brilliant at it. Once they brought me in, they worked me. It's not like I walked in and I booked it. They made me try a number of different ways and even at the end of that session I didn't know if I booked it. A few days later they called me and told me, but I had no idea what I was getting into. I didn't know what it was, I didn't know what Planet Hulk was, I had never read a comic book before. I didn't know anything about it.

Marvel.com: How does your take on Hulk differ from some of the other actors you mentioned?

Rick D. Wasserman: Well, I watched it for the first time at the premiere and it put things in perspective. It's not as though my Hulk screams and yells a lot and it's not as though he screams "Hulk smash." He says it once, but he doesn't say "Hulk smash," he just says "Smash." He does speak in more complete sentences, but overall there's always a lot of self-hatred with the Hulk. What I remember from Lou Ferrigno and Bill Bixby [is that] there's a lot of inner tempest and turmoil and pain. However, because he's been rejected and sent away at the beginning of "Planet Hulk" he's just so alone and disconnected and fervently pushes anyone away who wants anything to do with him or needs him. Throughout this story he turns to them and is starting to pull together a family. It's a different side of Hulk you don't usually get to see. You see him pained, sensitive. The part that's most intriguing to me is that he doesn't know what's going to happen next, he's a bit lost. He's always got his might, but for the first time you see him in an emotional transition. "I don't know what to do anymore," and that's how we leave him at the end of "Planet Hulk," very ripe to find out what happens afterwards.

Marvel.com: You mentioned you hadn't read the Planet Hulk comics beforehand; did you give it a read after hearing about the role?

Rick D. Wasserman: I did. I went to my local Golden Apple comic store, which I hadn't been in before and asked "Do you carry something called Planet Hulk?" and they were looking at me like I'm a total idiot. Well of course they do and of course they have it and it's right here, right in front of you. They asked which storyline I had been reading and I said I hadn't read any of it. But I didn't tell them what I was doing because they might jump over the counter and tackle me. I took it home and it's just so not what I thought it was. My impression of comics were like Richie Rich [laughs], I didn't know. They aren't little panels, it's this incredible, epic, sweeping artistry and huge epic overtones with plot. It's enormous and vast. It's got history. It's got sociological value. It's big. I read and read and read and, of course you can't bring all that [into the movie], because "Planet Hulk" is narrowed down expertly so that it follows the Hulk specifically as opposed to running off the stories into Miek's land. So I took as much information as I could hold in my brain to the voiceover sessions.

Marvel.com: Do you have a favorite Hulk catchphrase like "Hulk smash!" or "Puny humans?"

Rick D. Wasserman: In "Planet Hulk" I do have a favorite line; I just think it's incredibly telling, but it's the last line of the film and I don't want to give it away. I could tell you, but it might ruin it for people. It just speaks great thoughtfulness. It's like he's exercised every muscle in his body except his brain and his heart, but that's what he does in this story and they really get a big workout. Some of the best things I got to say were really really quiet moments where there's no screaming or shouting. I don't even know if we've heard Hulk like this. 

Marvel.com: In the comics, Planet Hulk leads into World War Hulk with Hulk coming back with the Warbound and getting revenge; is there room for that after the events in "Planet Hulk?"

Rick D. Wasserman: Absolutely, there's plenty of room and I know that [Supervising Producer] Josh Fine and some of the people at the premiere were asking if this could become something else and they said of course, there's a lot more room for a lot more story to come out here. It will all depend on how well this particular feature does.

Marvel.com: There is a lot of buzz around this from the fans who are excited to see another favorite story get turned into an animated feature. How has your experience with the fans been?

Rick D. Wasserman: There will be some surprises; there were some very devoted fans at the premiere [and] when we had the Q&A [afterwards] they knew everything about the comic and they saw this and there are some differences that were made based on what characters were available to use, they had to change some characters, they had to really tighten up the story, so some storylines got put aside and some really came up and there are some really vivid images I can't give away, but there [are] some almost disturbing images that everyone thought they were going to get rid of that they kept.

Marvel.com: Do you have a favorite scene?

Rick D. Wasserman: Yeah, Hulk is fighting in what's basically a giant coliseum and, since I'm one of the voices of UFC, I got such a kick out of Hulk who has to fight a number of opponents. One of them looks like a gigantic metal worm. He tears it apart like a big FedEx package and then he takes another opponent and throws him on the ground and he does what is essentially the ground 'n' pound which is what they call it in mixed martial arts, just kind of straddling him and swinging both arms bang bang bang bang. I got the biggest kick out of that! He threw down some mixed martial arts in the middle of it!
A whole new world of hurt! Betrayed by Earth's heroes and exiled into outer space, the man-monster Hulk has landed on the distant planet Sakaar, ruled by the tyrannical Red King. Sold into slavery, Hulk becomes the Green Scar, the planet's mightiest gladiator - but his new masters get more than they bargained for.
Make sure to pre-order your copy of the "Planet Hulk" DVD, 2 Disk Special Edition or Blu-ray today!
Can't wait for the DVD/Blu-ray? Neither can we! Until then, take a sneak peek at the alien planet Sakaar as illustrated in full color in "Planet Hulk" below!
Check out the official Marvel.com "Planet Hulk" hub for more!
To find a comic shop near you, call 1-888-comicbook or visit www.comicshoplocator.com
Not a subscriber to Marvel Digital Comics Unlimited yet? Join now!
Download SPIDER-WOMAN and ASTONISHING X-MEN Motion Comics now on iTunes! For more information on motion comics, visit the Marvel Motion Comics hub!"
Download episodes of "X-Men: Evolution", "Wolverine and the X-Men", "Fantastic Four: World's Greatest Heroes" and "The Super Hero Squad Show" now on iTunes!

Check out the official Marvel Shop for your favorite Marvel Heroes!