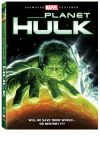 Ready for another rip-roarin' Hulk animated feature?! Good, because "Planet Hulk" arrives on DVD and Blu-ray today!
Until then, tune in to Marvel.com every day for brand new EXCLUSIVE screenshots, concept art, storyboards, style guides and more from "Planet Hulk!"

You've seen the clips. You've heard the buzz. Now, the wait is finally over as the "Planet Hulk" DVD/Blu-ray goes on-sale today!
A whole new world of hurt! Betrayed by Earth's heroes and exiled into outer space, the man-monster Hulk has landed on the distant planet Sakaar, ruled by the tyrannical Red King. Sold into slavery, Hulk becomes the Green Scar, the planet's mightiest gladiator – but his new masters get more than they bargained for.
Make sure to order your copy of the "Planet Hulk" DVD, 2 Disk Special Edition or Blu-ray today!
Need a taste of "Planet Hulk" before you get your own copy of the DVD/Blu-ray? Check out these stills showing the Hulk, Red King, Caiera, Hiroim and Korg:
The Hulk finally meets his match in "Planet Hulk" as he faces off with Caiera, who posesses the Old Power, allowing her to tap into the energy of Sakaar itself!
The Hulk meets his trusted allies, the Warbound, in the gladiator arena where they need to trust each other and work together to survive.
Check out the official Marvel.com "Planet Hulk" hub for more!
To find a comic shop near you, call 1-888-comicbook or visit www.comicshoplocator.com
Not a subscriber to Marvel Digital Comics Unlimited yet? Join now!
Download SPIDER-WOMAN and ASTONISHING X-MEN Motion Comics now on iTunes! For more information on motion comics, visit the Marvel Motion Comics hub!
Download episodes of "X-Men: Evolution", "Wolverine and the X-Men", "Fantastic Four: World's Greatest Heroes" and "The Super Hero Squad Show" now on iTunes!

Check out the official Marvel Shop for your favorite Marvel Heroes!