Mere days remain before "Iron Man 2" hits the big screen for all to see, and here at Marvel.com we're dedicated to getting you so close to the action you'll feel like you're decked out in your own suit of armor! Our series of "'Iron Man 2' Up Close'" articles will get you in the heads of the key folks working to bring you this blockbuster-today we've got Marvel Studios President and "Iron Man 2" producer Kevin Feige as well as screenwriter Justin Theroux, tomorrow Sam Rockwell and Mickey Rourke, Scarlett Johansson and Gwyneth Paltrow on Wednesday, Jon Favreau on Thursday, and finally Robert Downey Jr. and Don Cheadle on Friday! Enjoy!
By Zack Zeigler
In Hollywood, the limelight rightfully shines upon the onscreen stars that play out scenarios and deliver lines. However, there are always key mega players behind the scenes who prove to be worth their weight in gold-or in this case, iron.
Two of the biggest for "Iron Man 2" are Marvel Studios President and "IM 2" producer Kevin Feige and screenwriter Justin Theroux. Their efforts-along with those of the A-list cast-to respect the characters and maintain the integrity of Tony Stark's story helped keep Iron Man from blasting off course.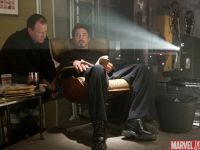 Kevin Feige with Robert Downey Jr. on the set of "Iron Man 2"
"With a sequel," Feige recounts in the film's official production notes, "you can really take the gloves off because you already know what worked really well in the first film and can up the ante in those aspects. Having that kind of opportunity is one of the great joys in filmmaking."
There's no question the popularity of the first "Iron Man" left Marvel Studios in a favorable position for its follow-up, but it also left a lot of ground to cover.
"We had to rectify what to do when a private citizen, even a really rich and powerful one, comes up with something that has the ability to tip the balance of power, not just nationally, but globally," Theroux said in the production notes. 
With the addition of names like Mickey Rourke, Scarlett Johansson, Don Cheadle and Sam Rockwell, some worried the plot would get watered down, a notion Feige dismissed at the 2009 Comic-Con in San Diego.
"'Iron Man 2' is totally Tony Stark's story," he affirmed.
Telling that story properly meant on-the-fly rewrites due to the improvisation that took place on the set. Robert Downey Jr. is well known for his ability to ad-lib-something director Jon Favreau encourages-which meant the hectic world Theroux wrote about would sometimes mimic his own as the film's scribe.
"My job as the writer was to stay on the dance shoes of Jon, Robert, Gwyneth [Paltrow]... and rewrite things on the fly," Theroux said at the
film's recent press junket in Los Angeles. "We did have an extensive development process, obviously, where we had a script, but that ball keeps rolling into production. And then once we're on set, it got very frenetic."
Having worked with Downey on the comedy "Tropic Thunder," Theroux's first screenwriting endeavor, the writer had an already-established chemistry with the movie's lead. A pace that would leave many frazzled only accentuated Theroux's skills as a scriptwriter and opened the story for deeper interpretation and exploration, two aspects that would preserve the naturalistic tone of part one.
"[Theroux] understood... how to weave in and out of Robert's creative process," Favreau told reporters in L.A. "He really did a fantastic job."
**Get discounted seasons of your favorite Marvel shows on iTunes.
For a limited time at iTunes.com/MarvelComics.**
Get tickets for "Iron Man 2" now!
Visit the official "Iron Man 2" movie site now and the Marvel.com "Iron Man 2" movie hub! Also, be sure to check out StarkExpo2010.com, the official site of Stark Expo!
Find out when the movie opens in YOUR country with the official "Iron Man 2" international release schedule!
The official Marvel Shop features all things Iron Man!
Read Iron Man Digital Comics right now! Not a subscriber to Marvel Digital Comics Unlimited yet? Join now!
Check out the official Marvel Shop for your favorite Marvel Heroes!
Required Reading: check out key Iron Man collections available now in bookstores everywhere!