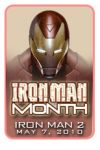 Mere days remain before "Iron Man 2" hits the big screen for all to see, and here at Marvel.com we're dedicated to getting you so close to the action you'll feel like you're decked out in your own suit of armor! Our series of "'Iron Man 2' Up Close'" articles will get you in the heads of the key folks working to bring you this blockbuster-today we've got Scarlett Johansson and Gwyneth Paltrow, Jon Favreau tomorrow, and finally Robert Downey Jr. and Don Cheadle on Friday! Enjoy!
By Zack Zeigler
Nobody gets a free pass from the comic community when you're hired to portray a character from the Marvel Universe. Scarlett Johansson was quick to learn this lesson after signing on as Natalie Rushman-aka Black Widow-for "Iron Man 2."
"There was some resistance... because she hadn't done an action film before," admitted director Jon Favreau in the movie's production notes. "Scarlett assured me that she would work as hard as she needed to do all of the stunts and physical work in the film."
"Iron Man 2" proved Johansson's most physically challenging part to date. Past roles in Woody Allen's "Match Point" and "He's Just Not That Into You" didn't demand nearly the physicality required to pass as Black Widow. In order for her to live up to her promise to Favreau that she'd overcome this obstacle, Johansson put herself through a hardcore training regimen aimed at transforming both her body and mind.
"Black Widow is an expert in hand-to-hand combat, she's a mixed martial artist, has a dance and gymnastic background, so she combines all of these aspects into one kick-ass fighting machine," said Johansson.  "So I dedicated myself to putting in the hours, repetitions, and training with the stunt team until I felt comfortable that I could sell each particular move."
Marvel fans should take solace in knowing Johansson's head and heart were in the right place; she wouldn't rely solely on her ability to turn heads, but instead would utilize and exploit the learned traits that make the character unique.
"I think that Jon made that really clear in the beginning, that he felt as far as Black Widow or Natalie was concerned... she was mysterious and nuanced and something to kind of peel back layers," she told reporters in Los Angeles. "Sex appeal kind of came second."
**Get discounted seasons of your favorite Marvel shows on iTunes.
For a limited time at iTunes.com/MarvelComics.**
Get tickets for "Iron Man 2" now!
Visit the official "Iron Man 2" movie site now and the Marvel.com "Iron Man 2" movie hub! Also, be sure to check out StarkExpo2010.com, the official site of Stark Expo!
Find out when the movie opens in YOUR country with the official "Iron Man 2" international release schedule!
The official Marvel Shop features all things Iron Man!
Read Iron Man Digital Comics right now! Not a subscriber to Marvel Digital Comics Unlimited yet? Join now!
Check out the official Marvel Shop for your favorite Marvel Heroes!
Required Reading: check out key Iron Man collections available now in bookstores everywhere!