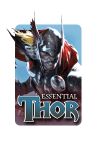 With the release of "Thor" on May 6, 2011 and "Captain America: The First Avenger" on July 22, 2011, Marvel.com presents the Essentials, a series of articles showcasing each character's expansive history and mythology  in the Marvel comics.
From character retrospectives to a look at memorable storylines and interviews with key creators, the Essentials will act as the perfect guide for fans both old and new! Look for new Cap Essentials every Monday and Thor Essentials every Thursday as we head toward the release of each film!

By Marc Strom
Loki's longtime feud with his half-brother, Thor, reveals a villainous yet wounded soul. The Trickster always felt Odin favored Thor over himself, and as such constantly sought to prove his worthiness, first by trying to one-up Thor whenever the opportunity presented itself and then by attempting to take control of Asgard's throne.
Mischievous and deceitful by nature, Loki can't help but cause trouble for Thor and the many other heroes of the Marvel Universe. But sometimes his plots go too far, and amidst all the destruction his actions cause even he can fall victim to his own machinations. This, then, is the story of Loki, from birth to death and back again.
A Mischievous Youth
When Odin slew Laufey, king of the Frost Giants of Jotunheim, he left the monarch's son an orphan. Adopting the boy and naming him Loki Odinson, Odin unknowingly brought a serpent into the halls of Asgard. Even in his youth, Loki felt jealousy towards his half-brother Thor. That jealousy festered throughout his childhood, first manifesting in Loki's attempts to keep Thor from completing the deeds of valor necessary for the Thunderer to earn the right to lift Mjolnir. Hoping that he himself may get the chance to earn that same right, Loki even tried sending Thor to his death at the hands of an army invading Asgard.
Loki sought to become the most powerful Asgardian, and knew that Thor would always stand in his way as his number one competitor.
Comics readers first learned the details of Loki's youth in the "Tales of Asgard" features in JOURNEY INTO MYSTERY #112-116, collected in THOR: TALES OF ASGARD. The story of his adoption was most recently retold in THOR Vol. 3 #8, collected in THOR BY J. MICHAEL STRACZYNSKI VOL. 2, while his schemes against his brother were also explored in THOR: SON OF ASGARD #1-9, collected in THOR: SON OF ASGARD.
A Trickster in the Modern Age
Loki began tormenting his half-brother once again almost immediately after Donald Blake discovered Mjolnir and Thor returned to the world. Imprisoned within a tree in Asgard, Loki managed to free himself and find Thor on Earth. After numerous failed attempts to steal Mjolnir from the Thunder God, Loki inadvertently helped form the Avengers when he tried to manipulate the Hulk into beating Thor. After Iron Man, Ant-Man and the Wasp joined Thor to battle the Green Goliath, all five heroes banded together to mete out punishment against Loki for his trickery.
Loki performed the ultimate trick when he managed to transfer his mind with Thor's. Now in control of his half-brother's body, Loki finally wielded Mjolnir, wreaking havoc on Earth as he attempted to use Thor's powers to take control of the entire world. This only lasted a brief time, however, before the true Thor managed to trick the Trickster into switching bodies once more, returning each to their proper self.
Loki first returned to trouble Thor in JOURNEY INTO MYSTERY #85, collected in ESSENTIAL THOR VOL. 1 and MARVEL MASTERWORKS: THE MIGHTY THOR VOL. 1, and he unwittingly helped form Earth's Mightiest Heroes in AVENGERS Vol. 1 #1, collected in ESSENTIAL AVENGERS VOL. 1 and MARVEL MASTERWORKS: AVENGERS VOL. 1. The Trickster switched bodies with his brother in THOR #179-181, collected in ESSENTIAL THOR VOL. 4 and MARVEL MASTERWORKS: THE MIGHTY THOR VOL. 9, hitting stores on Oct. 20!
Coveting the Throne
Throughout the years Loki launched a number of bids to take the throne of Asgard from his father, Odin. Though he succeeded several times, he could never hold onto it for long. First gaining the title of king while his father was deep in the Odinsleep, Loki fled Asgard with the attack of Mangog which only his brother could stymie.
When Surtur and his army of fire demons attacked Earth and Asgard, Loki stood beside Odin and Thor to battle defend the Realm Eternal. Because Surtur sought to destroy Asgard, Loki could not let him win, as it would mean the destruction of the very kingdom he so desperately coveted as his own.
Loki took the throne during Mangog's attack on Asgard in THOR #154-157, collected in ESSENTIAL THOR VOL. 3 and MARVEL MASTERWORKS: THE MIGHTY THOR VOL. 7, and joined forces with Odin and Thor during the "Surtur Saga" from THOR #349-353, collected in THOR VISIONARIES: WALTER SIMONSON VOL. 2.
Acts of Vengeance
Coordinating the villains throughout the Marvel Universe, Loki led a war against the super heroes. Convincing the villains to attack heroes they've never fought before in the hopes of throwing the do-gooders off their game, Loki hoped to avenge the perceived slights Earth's heroes had given him throughout the years-and, as always, to create general mischief for his brother.
The Avengers eventually saw Loki's hand in their troubles and confronted the God of Mischief, once again besting him.
The "Acts of Vengeance" cross-over spanned AVENGERS #311-313 and AVENGERS WEST COAST #53-55, as well as many tie-ins with other Marvel series at the time.

Ragnarok and Rebirth
Eventually, just as the Avengers fell apart, Loki finally fulfilled his destiny of bringing about Ragnarok, the battle that would spell the death of all Asgardians. Leading Asgard's enemies to its gates in yet another attempt to take the throne, he set off a chain of events leading to Balder the Brave's death and war between the Asgardians, Surtur, Mangog and all the other evil forces waiting for their moment to crush the home of the gods.
Following Ragnarok, Thor eventually made his way back into the land of the living and restored his fellow Asgardians, whose spirits were trapped within the bodies of mortals, to life.
Loki hid himself inside the body of a woman meant for Thor's love, the Lady Sif, and was reborn as a woman in order to convince Thor that he really had changed and no longer looked to play the Trickster. After his manipulations led to Thor's exile from Asgard, the Thunder God learned the true nature of his deceitful brother's machinations and restored Sif to life, returning Loki to his original, masculine form.
Ragnarok befell Asgard in THOR #80-85, collected in AVENGERS DISASSEMBLED: THOR. After their return, Loki's machinations tormented his brother from THOR Vol. 3 #5-12 and #600-602, when Sif returned to her rightful body.
Dark Alliances
After Loki's return, he began forming alliances with other Marvel villains. First joining forces with Doctor Doom, Loki eventually becomes a part of Norman Osborn's secret cabal during the Dark Reign. In exchange for Loki's loyalty, Osborn promised him the throne of Asgard. While Osborn pushed the issue off, Loki eventually manipulated him into launching an all-out siege against Asgard. In the ensuing battle, the Void laid waste to Asgard before blowing Loki to smithereens. In the end, Loki's unending quest for power became his downfall.
Loki's alliance with Doom lasted from THOR Vol. 3 #5-12 and #600-606, collected in THOR BY J. MICHAEL STRACZYNSKI VOL. 1-3 and THOR: LATVERIAN PROMETHEUS. He joined forces with Norman Osborn in SECRET INVASION: DARK REIGN, collected in DARK REIGN: ACCEPT CHANGE, and led the assault on Asgard that led to his demise in SIEGE #1-4, collected in SIEGE.
Ultimate Loki
In 2000, Marvel launched its Ultimate line of comics, contemporary re-interpretations of their most classic characters. Over the last ten years, the Ultimate Universe has grown to include new visions of many of Marvel's greatest heroes and villains.
Ultimate Loki came closer to taking total control over Midgard than his Marvel Universe counterpart ever did. Posing as a scientist named Gunnar Golmen working with Norway's super-soldier program, he convinced the Ultimates that Thor was his delusional brother Thorlief utilizing a harness and hammer created by Golmen to simulate the powers of the mythological Thor.
With Thor out of the way, Loki infiltrated a group of super-soldiers from around the world known as the Liberators and coordinated an attack on America and S.H.I.E.L.D. before bringing the Norse trolls, dragons and giants to tame the world. The Ultimates reassembled and took Loki down, with Thor sending him back to Asgard.
Most recently, Loki-alongside the Enchantress-launched another attack on the Ultimates and New York City. With Thor dead and trapped in Hel, Loki kills his brother's love, Valkyrie, only to have the angered Thunder God return to the land of the living, out for the Trickster's blood.
Loki's attack on Thor and his teammates spanned ULTIMATES 2 #9-13, collected in ULTIMATES 2 ULTIMATE COLLECTION. ULTIMATE COMICS: NEW ULTIMATES tells the story of Loki's latest attack on Midgard, with issue #4 hitting shelves on Oct. 13, and his past will be further explored in the four-issue ULTIMATE COMICS THOR limited series beginning Oct. 6.
To find a comic shop near you, call 1-888-comicbook or visit www.comicshoplocator.com
Not a subscriber to Marvel Digital Comics Unlimited yet? Join now!
Download SPIDER-WOMAN and ASTONISHING X-MEN Motion Comics now on iTunes! For more information on motion comics, visit the Marvel Motion Comics hub!"
Download episodes of "X-Men: Evolution", "Wolverine and the X-Men", "Fantastic Four: World's Greatest Heroes", and "The Super Hero Squad Show"
now on iTunes!