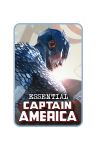 With the release of "Thor" on May 6, 2011 and "Captain America: The First Avenger" on July 22, 2011, Marvel.com presents the Essentials, a series of articles showcasing each character's expansive history and mythology  in the Marvel comics.
From character retrospectives to a look at memorable storylines and interviews with key creators, the Essentials will act as the perfect guide for fans both old and new! Look for new Cap Essentials every Monday and Thor Essentials every Thursday as we head toward the release of each film!

By Jim Beard
He lived and breathed every kid's dream: To leap into action alongside a real bona-fide super hero. Bucky represented the youth of America during World War II--idealistic, energetic, wanting to do something to help the war effort. Full of courage and adventure, his story stands equal to that of older heroes, yet it's also a tale of death and rebirth. And, of course, legacy.
Come now as we recount the history of Bucky, Captain America's partner, friend--and worthy successor.
Keep 'Em Flyin', Kid
James Buchanan Barnes, as the story's told, stumbled upon the secret of Captain America's secret identity by accident, and in doing so entered a world beyond imagination. Sporting the nickname "Bucky," he too donned a costume and worked alongside the Sentinel of Liberty as first a sidekick and then as an equal. The duo made headlines around the world as they fought their way through every manner of danger during World War II, both on the home front and overseas.
Bucky became a member of the war-era Invaders, a team of costumed mystery men who banded together to fight the Axis Powers as a strikeforce. The young scamp also joined forces with other kid heroes to form the Young Allies. They too made their own mark on the war and the hearts of freedom-loving people across the globe.
Sadly, young Bucky never saw the end of hostilities in both the European and Pacific theaters. As the war ground to a close he and Cap faced off against the insidious Baron Zemo, a fight that would spell the end of Bucky's childhood. Leaping onto Zemo's experimental bomb-laden drone plane, he rode it until it exploded, sending Cap plunging into the frigid sea below and his beloved partner into oblivion.
Bucky earned his spurs in CAPTAIN AMERICA COMICS #1, collected in MARVEL MASTERWORKS: GOLDEN AGE CAPTAIN AMERICA COMICS VOL. 1. He joined with other teen heroes beginning in YOUNG ALLIES Vol. 1 #1, which can be found in MARVEL MASTERWORKS: GOLDEN AGE YOUNG ALLIES VOL. 1. The revelation of Bucky's seeming demise played out first in AVENGERS Vol. 1 #4, collected in MARVEL MASTERWORKS: AVENGERS VOL. 1 and ESSENTIAL AVENGERS VOL. 1.

Time and Tide
Yet, not unlike that of his mentor and partner Captain America, Bucky's story didn't end there. Unbeknownst to Cap and the rest of the world, the teen hero also plunged into the cold sea waters and, after being found by the crew of a Russian submarine, he entered a terrifying new world. The Soviet state not only replaced his missing arm with a cybernetic one, but also his very thoughts with those of loyalty to Mother Russia and service to the glories of Communism. Now dubbed the Winter Soldier, Bucky became the Soviets' most ruthless covert agent.
Barely growing older due to periods of suspended animation, the Winter Soldier operated as an assassin through the decades following World War II yet ultimately crossed paths with his former mentor Captain America, Steve Rogers, in the present day. At first not fully realizing the identity of the deadly Soviet agent, Cap soon guessed the truth and, wielding the all-powerful Cosmic Cube, restored the young man's full memories--which also brought the guilt of his brainwashed career down on Bucky's head like a ton of lead.
Once dealing with his sins and accepting them, Bucky reunited with Steve and attempted to return to the side of the angels. Soon after, he watched in horror as Cap's life shattered with an assassin's bullet and ultimately faced the cold, hard reality of a world without a Captain America.
The mystery of the Winter Soldier and his true identity unfolds beginning in CAPTAIN AMERICA Vol. 5 #1 and reaches its climax when Bucky's memories return in CAPTAIN AMERICA Vol. 5 #14, all collected in CAPTAIN AMERICA: WINTER SOLDIER ULTIMATE COLLECTION. Cap's death occurs in CAPTAIN AMERICA Vol. 5 #25, and is collected, along with its immediate aftermath for Bucky, in CAPTAIN AMERICA: THE DEATH OF CAPTAIN AMERICA VOL. 1.
He Who Wields the Shield
After Steve's murder, Bucky came to terms with the event and the new world order of Tony Stark's Superhuman Registration Act and subsequently stole Cap's famous shield from the US government. When he learned Steve desired the legacy of Captain America should live on, he gathered his courage for the dark days ahead and took on his teacher and friend's mantle: The new Sentinel of Liberty took his place on the public stage.
Bucky demanded Tony Stark allow him to operate as a free agent and dove head first into battle against Steve's old enemies the Red Skull and Dr. Faustus, the architects of Rogers' assassination. With the Black Widow at his side, the new Captain America fought his way through the Secret Invasion and the Dark Reign that followed.
After growing more comfortable with his new role, Bucky's life took another strange turn when he discovered that Steve Rogers still lived but now existed unstuck in time. Aiding in his rescue and return to life, Bucky acknowledged what he saw as the inevitability of relinquishing the Captain America mantle to Steve...but Steve had other ideas.
Bucky became the new Captain America in CAPTAIN AMERICA Vol. 5 #33-34, collected in CAPTAIN AMERICA: THE DEATH OF CAPTAIN AMERICA VOL. 2, and welcomed Steve Rogers back to life in CAPTAIN AMERICA: REBORN #1-6.
Stars and Stripes Forever
At first prepared to give up the costume and shield of Captain America, Bucky heeds Steve Rogers' wishes and continued his mission as Cap. With Norman Osborn's un-American choke-hold on the nation broken and an invitation to join the reassembling of the Avengers, Bucky's life came full circle: The child of World War II now stands as the promise of tomorrow.
Steve Rogers urged Bucky to retain his shield in CAPTAIN AMERICA: WHO WILL WIELD THE SHIELD, and the new Cap joined the lineup of Earth's Mightiest Heroes in AVENGERS Vol. 4 #1, where he continues to fight for justice.
Ultimate Bucky
In 2000, Marvel launched its Ultimate line of comics, contemporary re-interpretations of their most classic characters. Over the last ten years, the Ultimate Universe has grown to include new visions of many of Marvel's greatest heroes and villains.
The Ultimate Universe claimed a Bucky who, unlike his Marvel Universe counterpart, began his costumed career as an adult at Cap's side. He married Cap's wartime sweetheart after believing his partner had perished, and together they made a life and family together. Happy when Steve Rogers reappeared in modern times, Bucky unfortunately became a pawn in various intrigues and found himself under government protection.
Ultimate Bucky first appeared in ULTIMATES #1 and became a prisoner in ULTIMATES 2 #8, collected in ULTIMATE THE ULTIMATE COLLECTION AND ULTIMATES 2 THE ULTIMATE COLLECTION, respectively. The latest wrinkle in Ultimate Bucky's life plays out in ULTIMATE COMICS AVENGERS #2, collected in ULTIMATE COMICS AVENGERS: THE NEXT GENERATION.

To find a comic shop near you, call 1-888-comicbook or visit www.comicshoplocator.com
Not a subscriber to Marvel Digital Comics Unlimited yet? Join now!
Download SPIDER-WOMAN and ASTONISHING X-MEN Motion Comics now on iTunes! For more information on motion comics, visit the Marvel Motion Comics hub!"
Download episodes of "X-Men: Evolution", "Wolverine and the X-Men", "Fantastic Four: World's Greatest Heroes", and "The Super Hero Squad Show"
now on iTunes!