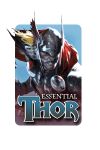 With the release of "Thor" on May 6, 2011 and "Captain America: The First Avenger" on July 22, 2011, Marvel.com presents the Essentials, a series of articles showcasing each character's expansive history and mythology  in the Marvel comics.
From character retrospectives to a look at memorable storylines and interviews with key creators, the Essentials will act as the perfect guide for fans both old and new! Look for new Cap Essentials every Monday and Thor Essentials every Thursday as we head toward the release of each film!

By Marc Strom
Thor would never have become the hero of today without the help of one man: His father, Odin.
The now-deceased king of Asgard brought peace to his land and ruled it with a firm but benevolent grip for ages unknown. In that time he imparted many of the lessons that helped shape Thor into the champion and ruler we know, but things were not always easy for the All-Father. He often served as the last line of defense against some of the greatest threats known to existence, and in the end he would give his life to save billions of innocents.
Now come with us as we celebrate the life of Odin in the latest installment of the Essential Thor!
Destined For the Crown
Born to the first king of Asgard, Bor, Odin served his father and kingdom as a warrior prince. Bor did not approve of his son nurturing the people of Midgard--or Earth, as we know it--and to punish Odin's actions, he brought much suffering and pain to mankind.
This rift between father and son came to a head as the two defended Asgard from an invading army of its enemies. Bor became separated from the main battle and, enchanted by a sorcerer, was turned into snow and blown throughout the lands. With his final words, he asked Odin to find a sorcerer powerful enough to bring him back to life, and until then his spirit would rest in the snow.
Odin disregarded his father, telling the Asgardians of Bor's "death" and claiming the crown of the realm for himself.
Odin retold the story of his early years and rise to the throne in THOR Vol. 3 #7, collected in THOR BY J. MICHAEL STRACZYNSKI VOL. 2.
A Father and King
Holding his newborn son, Thor, in his arms, Odin noticed that the future Avenger had Bor's eyes, and in that moment feared that he, too, would one day be replaced by his son. During this time, Bor's spirit visited Odin, telling him that if he adopts the son of one he has slain, he will no longer be trouble by the ghost of his father. For this reason, Odin adopted young Loki after killing King Laufey.
Over time, Odin established an order of peace throughout Asgard, yet in his own house he proved not so successful. Loki became a serpent in Odin's home, constantly causing mischief for his brother Thor, whom he deeply resented. And though Thor showed much promise as a boy, he eventually became little more than an arrogant, selfish warrior concerned more with women and drink than honor.
Odin sought to curb Thor's bravado by facing him in battle, at the conclusion of which he banished his son to Midgard, trapping him in the body of a feeble mortal until he could learn the lesson of humility.
The story of Odin's early years concluded in THOR Vol. 3 #8, also collected in THOR BY J. MICHAEL STRACZYNSKI VOL. 2, while Odin banished his son from Asgard in THOR: MAN OF WAR #1, collected in THOR: AGES OF THUNDER.
Defender of All Existence
Odin would help guard both Asgard and Midgard from a number of threats through the years, particularly Surtur, one of his oldest and most evil enemies. Long ago, Odin trapped Surtur in the center of the earth. The fire demon eventually freed himself and plagued Odin and Thor a number of times, but one of his most ambitious attacks occurred after the Thunder God had firmly established himself as one of the premiere heroes in the Marvel Universe.
Surtur formed an army of fire demons and led an assault against Asgard and Earth. Odin united his forces with both his sons in an attempt to end Surtur's threat, but the final battle came down to the two ancient enemies facing one another alone. The resulting melee ended with Odin's apparent death, though without a body the Asgardians could never say decisively what had happened to their ruler.
In actuality, Odin was captured by Seth, who held the All-Father under lock and key while amassing an army to attack and overthrow Asgard. Thor and his fellow Asgardians managed to defeat Seth and free Odin, returning him to the throne.
The tale of Odin entrapping Surtur in the Earth comes from "Tales of Asgard" in JOURNEY INTO MYSTERY #99, collected in THOR: TALES OF ASGARD. Odin disappeared during the climax of the "Surtur Saga," spanning THOR #337-353 and collected in THOR VISIONARIES: WALTER SIMONSON VOL. 1 and 2, before finally returning to the throne in THOR #400.
The Death of a King
Odin remained king of Asgard, with the exception of a brief period when the Dark Gods held he and other Asgardians prisoner during Thor's time in the Heroes Reborn universe, but faced his greatest battle yet when Surtur once again returned and attempted to take control of Earth. Despite being weakened from expending all of the Odinforce to help heal an ailing Thor, Odin led his forces against Surtur. He delivered the final blow against the fire demon, but in so doing also gave his own life, leaving Thor to claim the throne of Asgard.
After Ragnarok, Thor attempted to reawaken his father's spirit as he had the other Asgardians. When Thor entered the Odinsleep in order to restore the Odinforce which now resided within him, he discovered his father now existed on a separate plane of reality, locked in eternal combat with Surtur.
In order to keep the demon from returning to the real world, Odin slew him every day, only to see his enemy resurrected the next morning.
Odin said goodbye to his son, letting Thor know he would never return to rule Asgard again. The crown has passed from father to son once again, a fact that brings peace to Odin as he perpetually fights to keep the evil of Surtur in check.
Odin died battling Surtur in THOR #40, and met his son once again in THOR Vol. 3 #7-8, collected in THOR BY J. MICHAEL STRACZYNSKI VOL. 2.
To find a comic shop near you, call 1-888-comicbook or visit www.comicshoplocator.com
Not a subscriber to Marvel Digital Comics Unlimited yet? Join now!
Download SPIDER-WOMAN and ASTONISHING X-MEN Motion Comics now on iTunes! For more information on motion comics, visit the Marvel Motion Comics hub!"
Download episodes of "X-Men: Evolution", "Wolverine and the X-Men", "Fantastic Four: World's Greatest Heroes", and "The Super Hero Squad Show"
now on iTunes!