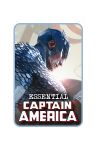 With the release of "Thor" on May 6, 2011 and "Captain America: The First Avenger" on July 22, 2011, Marvel.com presents the Essentials, a series of articles showcasing each character's expansive history and mythology  in the Marvel comics.
From character retrospectives to a look at memorable storylines and interviews with key creators, the Essentials will act as the perfect guide for fans both old and new! Look for new Cap Essentials every Monday and Thor Essentials every Thursday as we head toward the release of each film!

 
By Marc Strom
In his life, Captain America has known two great loves: Sharon and Peggy Carter. While he and Peggy only knew each other for a brief time while fighting in World War II, their bond proved unbreakable, and her spirit stayed with Cap long after they left each other's lives.
After the Avengers discovered his frozen body in the modern day, Captain America met and fell in love with Sharon Carter, unaware of her relation to his wartime sweetheart. While the two have had a tumultuous relationship full of the usual romantic turmoil and an apparent death or two, they've stuck together through thick and thin to both their benefits.
In this week's Essential Captain America, we take a look back at the history of the Carter women, and see just what it took to snag Steve Rogers' heart.
Love is a Battlefield
Fighting in the French resistance during World War II, Margaret "Peggy" Carter fell in love with Captain America as the two fought side-by-side against the Nazi regime. Her fighting spirit and strong will made her invaluable to the resistance, and when she faced certain death as a prisoner of the Nazis she met it with her head held high. While the Nazis marched her to a firing squad, however, an attack on the prison set the hostages free.
Learning of Peggy's situation, Cap battled his way to where the Nazis held her only to find the prisoners free and no trace of Peggy. In actuality, a bomb blast had left her without her memory, and she wandered off into the crowd. Cap had lost his first love...a love whose true name he never even knew.
Cap reminisced on his time with Peggy Carter in TALES OF SUSPENSE #77, collected in MARVEL MASTERWORKS: CAPTAIN AMERICA VOL. 1 and ESSENTIAL CAPTAIN AMERICA VOL. 1.
Lucky Number 13
Sharon Carter joined the ranks of S.H.I.E.L.D. after growing up with her Aunt Peggy's stories of fighting for freedom and justice in the French resistance. Looking up to her aunt more than she did her parents, she wanted nothing more than to live up to Peggy's example.
Known simply as Agent 13, Sharon first met Cap during a mission to transport an experimental element known as Inferno 32. The Captain remarked upon Sharon's likeness to his unknown WWII love, and shortly afterwards, they found themselves teaming up more and more until the pair fell deeply in love.
Sharon first met Cap in TALES OF SUSPENSE #75-76, collected in MARVEL MASTERWORKS: CAPTAIN AMERICA VOL. 1 and ESSENTIAL CAPTAIN AMERICA VOL. 1, while their relationship began in TALES OF SUSPENSE #95, collected in MARVEL MASTERWORKS: CAPTAIN AMERICA VOL. 2 and ESSENTIAL CAPTAIN AMERICA VOL. 1.
It's All Relative
Despite everything going well between Sharon and Steve Rogers, Captain America's alter ego, one day she inexplicably left, leaving behind only a cryptic note asking Cap not to come after her. Ignoring her wishes, he tracked her down at a New England psychiatric hospital. The villainous Doctor Faustus held her there, the same hospital where her Aunt Peggy rested.
She fought her way free with the help of Captain America and the Falcon, but then had to reveal her aunt's existence to Cap. For the first time, Rogers learned the name and true identity of the woman he'd loved during WWII, and of her relation to Sharon. Cap and Peggy reunited, and as a result Peggy regained her full memory and sanity.
Cap fought Doctor Faustus and found out the truth of Peggy Carter in CAPTAIN AMERICA #161-163, collected in ESSENTIAL CAPTAIN AMERICA VOL. 4.
The Death of Sharon Carter
Eventually, Sharon grew distant from Captain America. While working undercover for S.H.I.E.L.D., she became hypnotized and brainwashed into joining a white supremacist group. Cap came looking for her, but unable to control her actions she attacked him and defended the cult. After the group's headquarters exploded in their final battle with Captain America, Sharon disappeared. Shortly thereafter, a news crew showed Cap footage they had captured during the final battle...footage that showed his true love dying.
In reality, S.H.I.E.L.D. had manufactured that tape to allow Sharon to go deep undercover on a mission for Nick Fury. After that mission went sideways, Fury himself believed Sharon dead as well, and as a result he never told Rogers the truth of Sharon's "death."
Sharon found herself a victim of the cult in CAPTAIN AMERICA #231-233, and Cap saw footage of her "death" in CAPTAIN AMERICA #237.
Operation Rebirth
Sharon returned to Captain America's life just in time to save it. As the Super Soldier Serum in his system slowly killed him, Sharon led a team that succeeded in freezing him and then restoring him to health. Their relationship became contentious, however, as Sharon resented the fact that Steve had not dug any further into the nature of her "death," instead accepting the video tape he saw as authentic.
She continued to fight alongside Cap until he admitted his love for her to break her out of a killing rage under the Red Skull's control. The two eventually reunited but could not come to terms with their feelings for one another for some time yet.
Sharon Carter made her dramatic return in CAPTAIN AMERICA #445, collected in CAPTAIN AMERICA: OPERATION REBIRTH. Steve confessed his love for her once more in CAPTAIN AMERICA Vol. 3 #19, but it wasn't until CAPTAIN AMERICA Vol. 3 #49 that they got back together.
Sharon Carter: Murderer?
Working with the Red Skull, Doctor Faustus posed as a S.H.I.E.L.D. psychiatrist and placed Sharon under a hypnotic control that led her to deliver the killing shot in the "assassination" of Captain America. At first unaware of what she had done, she remembered what she had done after Faustus sent the Red Skull's daughter, Sin, to trigger a post-hypnotic command.
After Steve's death, Sharon learned herself pregnant with his child. However, after the Red Skull captured her, she lost the child during a gun fight with Sin. The trauma she experienced as the Skull's captive led to a great deal of memory loss, but as her memories began to return to her, so did the truth of Captain America's "death."
Sharon revealed to Cap's allies that Steve Rogers had not, in fact, died, but had become unstuck in time thanks to the machinations of the Red Skull. She helped rescue Steve and bring him back to the present. The two remain together, and Sharon currently helps Steve lead his team of Secret Avengers.
Sharon apparently killed Steve Rogers in CAPTAIN AMERICA Vol. 5 #25, collected in THE DEATH OF CAPTAIN AMERICA VOL. 1 and remembered what actually happened in CAPTAIN AMERICA Vol. 5 #49 and #600, collected in CAPTAIN AMERICA: REBORN. She and Cap's allies helped free him from the Red Skull's trap in CAPTAIN AMERICA: REBORN #1-6, collected in CAPTAIN AMERICA: REBORN.
Ultimate Sharon Carter
In 2000, Marvel launched its Ultimate line of comics, contemporary re-interpretations of their most classic characters. Over the last 10 years, the Ultimate Universe has grown to include new visions of many of Marvel's greatest heroes and villains.
Like her Marvel Universe counterpart, Ultimate Sharon Carter serves as an agent of S.H.I.E.L.D. She has only appeared a handful of times, most notably partnered with Agent Jimmy Woo and assisting Spider-Man in a battle against the Sandman. Since then, she has appeared in a number of minor roles as a S.H.I.E.L.D. representative.
Ultimate Sharon Carter fought against the Sandman in ULTIMATE SPIDER-MAN #46, collected in ULTIMATE SPIDER-MAN VOL. 9: ULTIMATE SIX.
 
To find a comic shop near you, call 1-888-comicbook or visit www.comicshoplocator.com
Not a subscriber to Marvel Digital Comics Unlimited yet? Join now!
Download SPIDER-WOMAN and ASTONISHING X-MEN Motion Comics now on iTunes! For more information on motion comics, visit the Marvel Motion Comics hub!"
Download episodes of "X-Men: Evolution", "Wolverine and the X-Men", "Fantastic Four: World's Greatest Heroes", and "The Super Hero Squad Show"
now on iTunes!