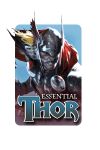 With the release of "Thor" on May 6, 2011 and "Captain America: The First Avenger" on July 22, 2011, Marvel.com presents the Essentials, a series of articles showcasing each character's expansive history and mythology  in the Marvel comics.
From character retrospectives to a look at memorable storylines and interviews with key creators, the Essentials will act as the perfect guide for fans both old and new! Look for new Cap Essentials every Monday and Thor Essentials every Thursday as we head toward the release of each film!

By Jim Beard
Every red-blooded male super hero absolutely must have a pretty girl by his side, and the Mighty Thor's no exception to the rule. In modern times the girl that captured the heart of the Thunderer answered to the name Jane Foster, and never before had a deity so flipped out over a mortal woman. Unfortunately, her story's not entirely a happy one, for so often she who'd seek the love of a being such as Thor would also possess her fair share of tragedy.
Let us now peel back the pages of history and hear the tale of the Woman Who Thor Once Loved!
Playing Nursemaid
If Jane Foster claimed to have a life before meeting Dr. Don Blake, there's little we know of it. As a nurse in the employ of Dr. Blake she helped run his practice and care for his patients, at first not suspecting that her crippled boss moonlighted as the super hero Thor. Jane's romantic feelings for Blake ran deep, as did his for her, but for years the two never acknowledged the fact of their mutual love--as long as the presence of Thor and his disapproving father hung over them.
Eventually, Blake declared his love openly for Jane and he tried valiantly to bring Odin, towering All-Father of fabled Asgard, around to his way of thinking. Through many misadventures and mishaps, Jane dodged danger from her connection to Thor and Blake and the day finally arrived when the good doctor allowed her knowledge of his secret life.
After one harrowing adventure, Thor whisked Jane to Asgard where she gained the power of the gods themselves and attempted to brave the tests she needed to pass to retain them. A simple and unapologetic mortal through and through, she failed the examinations and returned to Midgard and found new love in the arms of her future husband, Dr. Keith Kincaid. Jane then sought to put her past as Thor's girlfriend behind her.
Nurse Jane Foster first appeared in JOURNEY INTO MYSTERY #84, collected in both MARVEL MASTERWORKS: THE MIGHTY THOR VOL. 1 and ESSENTIAL THOR VOL. 1. She gained and lost godhood in THOR #136, which may be found in MARVEL MASTERWORKS: THE MIGHTY THOR VOL. 5 as well as ESSENTIAL THOR VOL. 2.
New Lives, Second Chances
After years of separation from Jane, Thor encountered her once more--this time around as
his
boss. His Don Blake persona washed away and now merged with paramedic Jake Olson, the
Thunderer
learned his former nurse operated as a full physician, one who directed Olson's activities but did so unaware of Thor's new secret identity.
As a doctor, Jane often assisted other heroes, obviously having gained experience in such matters from her time at Thor's side. Most importantly, she took a strong stand against Tony Stark's Superhuman Registration Act and fell in with Captain America's band of "traitors," lending them medical assistance and moral support.
Thor's reunion with Jane Foster transpired in THOR Vol. 2 #5, collected in THOR BY DAN JURGENS AND JOHN ROMITA, JR. VOL. 1. Jane's adventures during the Civil War transpired in CIVIL WAR #2-5, also found in the hardcover and trade paperback CIVIL WAR collections.
Thunder Strikes Again
Jane Foster's new life as a wife, mother and doctor crumbled away when Thor returned to Earth after a long absence and once again took up the mortal identity of Don Blake. Relentlessly searching for his fellow Asgardians, Thor encountered his former love and suspected that Jane now housed the soul of the
Thunderer
's other beloved, the goddess Sif. Their reunion kicked off on shaky ground but the two began dating and Thor eventually discovered Sif's spirit in a dying woman in Jane's hospital.
Most recently, Jane has moved to Broxton, Oklahoma, where Asgard currently resides. When last we left her she had opened a box bearing a framed sign reading "Medical Office--Broxton, OK: Donald Blake, MD, Jane Foster, MD."
Jane's meeting with the reborn Don Blake came about in THOR Vol. 3 #8, collected in THOR BY J. MICHAEL STRACZYNSKI VOL. 2. She moved to Broxton in THOR #606, collected in THOR: LATVERIAN PROMETHEUS, and we most recently saw her in THOR #615.

Ultimate and What If? Jane Foster
In 2000, Marvel launched its Ultimate line of comics, contemporary re-interpretations of their most classic characters. Over the last 10 years, the Ultimate Universe has grown to include new visions of many of Marvel's greatest heroes and villains.
In the Ultimate Universe, nurse Jane Foster believed in the announced godhood of the strange being known as Thor. In the realms of What If? Jane found the Hammer of Thor, instead of Don Blake. Transforming into Thordis she embarked on a series of adventures and fell into the clutches of the evil trickster god Loki. By the end of the tale she's forced to give up the power of Thor yet in return gained a marriage proposal from Odin himself.
ULTIMATES 2 ULTIMATE COLLECTION contains Jane Foster's brief Ultimate Universe appearance, while WHAT IF? Vol. 1 #10, collected in WHAT IF? CLASSIC VOL. 2, details her time as the Mighty Thordis.
To find a comic shop near you, call 1-888-comicbook or visit www.comicshoplocator.com
Not a subscriber to Marvel Digital Comics Unlimited yet? Join now!
Download SPIDER-WOMAN and ASTONISHING X-MEN Motion Comics now on iTunes! For more information on motion comics, visit the Marvel Motion Comics hub!"
Download episodes of "X-Men: Evolution", "Wolverine and the X-Men", "Fantastic Four: World's Greatest Heroes", and "The Super Hero Squad Show"
now on iTunes!