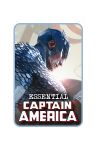 With the release of "Thor" on May 6, 2011 and "Captain America: The First Avenger" on July 22, 2011, Marvel.com presents the Essentials, a series of articles showcasing each character's expansive history and mythology  in the Marvel comics.
From character retrospectives to a look at memorable storylines and interviews with key creators, the Essentials will act as the perfect guide for fans both old and new! Look for new Cap Essentials every Monday and Thor Essentials every Thursday as we head toward the release of each film!

By Jim Beard
Shortly after Steve Rogers earned his own title once again when TALES OF SUSPENSE transformed into CAPTAIN AMERICA with issue #100 came 1969's now-legendary CAPTAIN AMERICA #110, #111 and #113, a tale that not only introduced key points to Cap's mighty mythos but boasted the titanic creative team of writer Stan Lee and artist Jim Steranko. Yeah, we thought that'd get your attention.
Join us now for a brief yet important journey through these incredible issues and marvel at the visions they brought.
Dream Team
A young Jim Steranko, already noted for his unique styling on NICK FURY, AGENT OF S.H.I.E.L.D., hopped onto Cap's series for this story and brought his personal vision along for the ride. Paired with Stan Lee, Steranko added new motifs of his own to the series. Most importantly, Steranko's figures in CAPTAIN AMERICA often seemed weightless; balletic forms that weave and dodged and vaulted through the air with the greatest of ease and inhabit panels of shadows and substance.
One of the true highlights of this short run surely rests in the artist's use of full-blown splashes. More than just comic book pages, Steranko drew images that almost qualified as illustration to accompany novels. Writer Lee wisely dispensed with word balloons on these humongous images, allowing for his prose to join with the art and provided a trip for the reader unlike anything they'd witnessed before. Truly a match made in comic book heaven.
Slinging the Story
On its surface, CAPTAIN AMERICA #110-113 set out to re-establish a secret identity for the Sentinel of Liberty, something he'd previously lost but realized he desperately needed to maintain his private life--and sanity. But overall these issues granted readers a tour of Cap's world, a sometimes-dark place inhabited by spies and saboteurs with precious little rest for our world-weary hero.
The story also introduced a major new villain to the Marvel Universe: Madame Hydra. Leading her snake-like agents in a gambit to snatch up Captain America, she pinpointed everything that Steve Rogers held dear in his life and attempted to crush it all. Beautiful and deadly, Madame Hydra embodied the allure of evil and would go on to bedevil Cap and the rest of the Marvel Universe for many years to come.
CAPTAIN AMERICA #110 inaugurated Rick Jones, one-time friend and ally to the Incredible Hulk, as the new Bucky. Stan Lee poignantly instituted Rick as Cap's new partner to not only allow the hero aid and comfort but to also squeeze every bit of pathos out of the sad story of Steve Rogers' displacement in time. It worked; Rick's training and eventual work in the field played out as equal parts joy and tragedy and remains the soul of the story.
Friends and Loved Ones
Lee and Steranko not only hosted Cap and Rick in the story but a bevy of amazing co-stars and cameos to boot. CAPTAIN AMERICA hailed a destructive appearance by the Hulk, which brought Rick into the story and the house down around everyone's ears. The somber funeral in CAPTAIN AMERICA #113 made room for not only a brief scene with Steve's lover Sharon Carter but also the full contingent of Avengers and none other than Steranko's--and Cap's--old pal, Nick Fury. With friends like these...
CAPTAIN AMERICA #110-113 may not only be found collected in MARVEL MASTERWORKS: CAPTAIN AMERICA VOL. 3 but also in ESSENTIAL CAPTAIN AMERICA VOL. 2.
To find a comic shop near you, call 1-888-comicbook or visit www.comicshoplocator.com
Not a subscriber to Marvel Digital Comics Unlimited yet? Join now!
Download SPIDER-WOMAN and ASTONISHING X-MEN Motion Comics now on iTunes! For more information on motion comics, visit the Marvel Motion Comics hub!"
Download episodes of "X-Men: Evolution", "Wolverine and the X-Men", "Fantastic Four: World's Greatest Heroes", and "The Super Hero Squad Show"
 now on iTunes!

Check out the official Marvel Shop for your favorite Marvel Heroes!